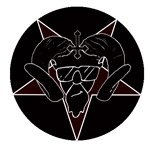 The Whiskyman was already known for his 'guitar label' (among others) which featured 'whiskyfied' titles of legendary rock songs, like Sympathy for the Whisky or Peat fighting man.
In the same tradition there's now a brand-new series with black labels inspired by hard rock / metal songs. The first two releases refer to Iron Maiden: a Bowmore 2003 'Children of the Dramned' and this Glen Scotia 1992 'Run to the Stills'.
Glen Scotia 1992 'Run to the Stills'
(51,3%, The Whiskyman 2014)
Nose: old-fashioned whisky, with lots of leather and coal. Some ink and hints of paraffin. Hay. Linseed oil. There's a sweeter layer underneath (apples, lemon, oats, almond milk even). Picks up more toasted notes over time, nice and complex.

Mouth: again a little weird actually, but in a good way. It's earthy and herbal, with a distinct bitterness (walnuts, gentian) but also a balancing sweet side (chocolate coated pears). Roasted coffee beans. Smoky, ashy notes again. Pepper and mint. At first I even found a slightly fishy side (something like tasty smoked sardine) but after a while I seemed to get used to the profile and this didn't stand out any more.

Finish: long, with some chocolate, spices, salt and earthy notes.
A slightly controversial whisky maybe, not for beginners in any case. I love it for its complexity, its surprisingly anti-modern profile and unusual flavours. Around € 110.
Score: 90/100