Over the past week-end, Belgian importer The Nectar organized the tenth edition of its Spirits in the Sky fair. Here are a few highlights of what I saw on the tables (and underneath)…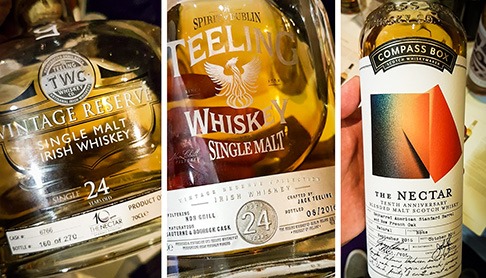 Compass Box
I started with the Whisky de Table from Compass Box, chilled. An undemanding aperitif, very light and barley-driven. I can't say I detected the Caol Ila smokiness but there's definitely some straightforward young Clynelish. Apples, waxy notes and more grainy notes on the palate. Good concept, good execution, just not something I would have a whole bottle of.
The bespoke bottling for the 10th Anniversary of The Nectar was much better. It is half Ardbeg matured in re-charred American barrels, and half of the typical Compass Box components (Clynelish, Dailuaine, Teaninich) matured in the Flaming Heart casks (new French oak hybrid casks). It's rich, with plenty of Ardbeg peat on the nose, dark fruits and the aromatic touch of French oak. On the palate it is less Ardbeg-driven, with more of the dark fruits, spices and sweet ashes. Really good. Just 660 bottles are available for around € 115.
Teeling
Teeling brought some of its new releases to a masterclass. For me the best of the bunch was the new Teeling 24 Year Old, matured in Sauternes and bourbon casks. It has more sherry than I expected (the majority of the indie releases had less sherry), but it mixes very nicely with the typical tropical fruitiness of classic Irish malts. An in-depth review will follow.
Most people also loved the new Teeling 24 Year Old single cask #6766 for The Nectar (51,5%, 270 bottles). It is great indeed, bottled from a sherry cask and made with a large proportion of Crystal malt. It adds more sherry flavours, including loads of toffee, caramel and ganache. Very good but I prefer the classic expressions.
Redbreast
More Irish whiskey. Everyone kept saying I should try the new Redbreast 25 Year Old, which is excellent indeed. Chocolate on the nose, with a great dustiness and even a touch of incense, as an extra layer on top of the classic Irish qualities. Lots of pink grapefruit on the palate, hints of pineapple and mango, again with a nice layer of old-style sherry. Surprisingly little oak. A new classic.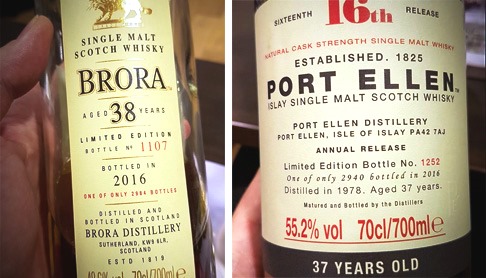 Diageo masterclass
I attended a Diageo masterclass, which started with three of the latest Distillers Editions: Dalwhinnie, Oban and Talisker. Decent whisky, presented with little in-depth information but instead an exposé on the value of whisky colouring. Of course everyone was there to try the new Brora 38 Year Old and Port Ellen 16th release that were part of the 2016 Special Releases. Both rather epic. Not something I would buy but both deserve a very, very high score.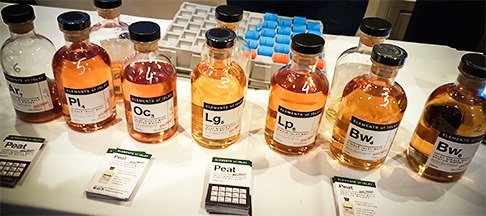 Elements of Islay
There have been a couple of tastings from Elements of Islay in Belgium in the last couple of weeks, to present their latest releases. Always a treat. I tried the new Ardbeg Ar7 (sherried, around 16 years old, very good) and the Bowmore Bw6 (from 1999 casks, showing some of the 1995-1996 tropical fruits but with a slightly more robust character).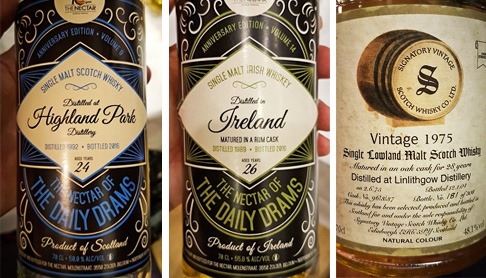 Other whisky
Of course there were more The Nectar releases. There's a Highland Park 24yo 1992 in the Anniversary Edition series. It's very clean, citrusy, with some bourbonny banana aromas. Good, but feeling younger than it actually is and not worth € 350 in my opinion. There's also a very good Ireland 26yo 1989 in the same series. Review coming up.
At the end of the festival I shared a Linlithgow 1975 (48,1%, Signatory Vintage 2004, cask #96/3/37, 308 btl.), an excellent Lowlands malt, and a Glenfarclas 'Mystery Speyside' 43yo 1966 (42,9%, The Ultimate 2010, cask #3336, 185 btl.), which was complex but also very subtle. Maybe not top class.
As I said, many of these will get a proper review soon!