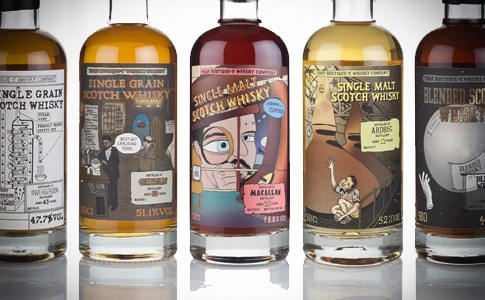 In an era when many distilleries are moving towards no-age-statement (NAS) bottlings, That Boutique-y Whisky Company (which has, to date, offered only a NAS range of bottlings) is taking the unprecedented step of going 'the other way' – adding age statements – in order to give consumers more information about its whiskies.
At first their reasoning was that they wanted to let people appreciate the intrinsic quality of the whisky, regardless of the age. They are still doing that, but disclosing the age (and possibly more when EU / UK regulations would allow it) doesn't interfere in any way. If a whisky is great at just five years of age, then why not mention the fact that it's five years old?
A great move and the first big impact of a campaign for transparency launched by Compass Box, after their problems with the Flaming Heart 15th Anniversary Edition.
Amongst the first releases to be announced are Invergordon 43yo, Girvan 52yo, Macallan 25yo, Ardbeg 12yo and Blended Whisky #1 35yo – all pictured above.