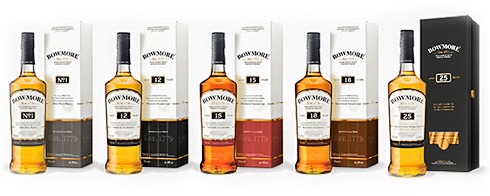 Bowmore N°1 and new travel retail expressions
Bowmore has just restructured its core range and introduced a new packaging, which is surprisingly harmonic and, well… white. The new line-up is still the same 12 Year Old, 15 Year Old, 18 Year Old and 25 Year Old. However the 15 will drop the Darkest tag (although there's still a good deal of sherry involved).
Also, at the bottom end there is a new Bowmore N°1 (not to be confused with Bowmore Vaults Edit1°n series), a no age statement whisky which replaces the Bowmore Small Batch and is also made with first-fill bourbon barrels. Its price should be nearly the same as the 12 Year Old.
Then there are three new travel retail expressions, priced between € 50 and € 90 more or less:
Bowmore 10 Year Old: Dark and Intense (European oak sherry + hogsheads)
Bowmore 15 Year Old: Golden and Elegant (first fill bourbon)
Bowmore 18 Year Old: Deep and Complex (Oloroso + PX sherry)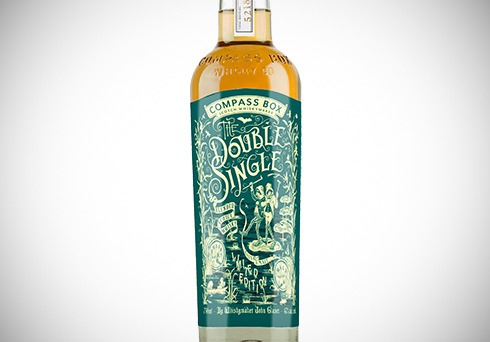 Compass Box Double Single – Third edition
Compass Box is working on a third edition of the Compass Box Double Single expression. Originally inspired by Tatsuya Minagawa and Duncan Elphick from the Highlander Inn, it is a composition of one single malt with one single grain whisky.
For this batch they selected a 19 years old Glen Elgin (72%) and single grain from Girvan (28%) of even higher age, both matured in re-charred ex-bourbon casks. It is bottled at 47% alc. vol. and 5218 bottles are available.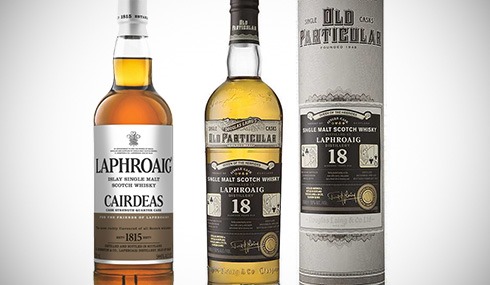 Laphroaig Cairdeas 2017
Then there's Laphroaig Cairdeas 2017, their yearly Feis Ile edition. This year it was composed from American oak quarter casks, which speed up maturation. That means no fancy wine finish or anything. If they follow traditions, it should be bottled at 51,7% alcohol.
With this information, it simply seems a cask strength version of the commonly available Laphroaig Quarter Cask?
Douglas Laing Consortium of Cards
Independent bottler Douglas Laing also announced a Laphroaig, an 18 Year Old nicknamed 'Queen of Hebrides', as part of its new Consortium of Cards series. This series will be themed around a deck of playing cards, with four releases each year and ultimately a full house of 15 single malt and 5 single grain releases. One for collectors.