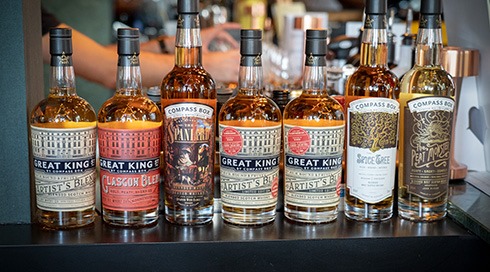 Last week John Glaser was making a small tour in my part of Europe, presenting some of the latest Compass Box releases and explaining the philosophy of the brand.
The event was taking place at the beautiful Bar Burbure in Antwerp, already indicating a focus on cocktails and bartenders, but luckily there was something in there for this slightly geekier whisky blogger as well.
It is very entertaining to hear how he started blending in his London kitchen, how the recipes are now designed by more blending wizards than John alone, where the name Compass Box comes from, how he sources casks and spirits and especially how he occasionally conflicts with the SWA about innovative maturation techniques and transparency in the industry. There's simply no other whisky maker like this.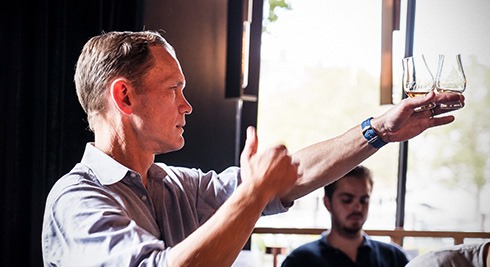 First dram: Compass Box Great King Street, one of their best-selling products. This blended whisky is made with around 46% grain whisky (Cameronbridge) and 54% malt (Clynelish, Teaninich, Deanston), mostly from first-fill American oak barrels.
Great King Street 'Artist's Blend'
(43%, Compass Box 2018)
Nose: very fresh with lots of fruity brightness. Apples (baked and green), kiwi, lemon candy. Gentle vanilla. It's mostly the American oak speaking, with an almost perfumed touch. Hints of marshmallows too.

Mouth: sweet, on peaches, lemons and vanilla custard. Very easy-going, a tad simple but nicely highlighting the malty whisky.

Finish: rather short, clean with a light spicy touch.
A very balanced blend that is far less 'blend-like' than most others. Great value for money and indeed something bartenders will be able to use in high-quality cocktails. Around € 40.
Score: 82/100
Great King Street 'Glasgow Blend'
(43%, Compass Box 2018)
Nose: this shares the fresh, aromatic character of the Artist's Blend, but with gentle peaty notes (Laphroaig in the mix). More lemons, soft hints of antiseptics with fruits and a little vanilla and wood in the background.

Mouth: sweet and oily, a little more peat but still no monster. Grapefruits and kippers. Hints of dried fruits underneath (some sherry casks involved). Rather classic and very accessible.

Finish: medium, clean, zesty with a whiff of smoke.
The perfect peated counterpart. Essential to make the perfect Penicillin cocktail (which was originally created with Compass Box whisky, by the way). Perfectly sippable on its own though. Also around € 40.
Score: 81/100
The Story of the Spaniard is a new blended malt based around 40% Craigellachie from Spanish sherry casks and 25% Teaninich from Spanish red wine casks (presumably Rioja wine), as well as some Deanston from refill casks, and other components. This whisky was created after a limited edition simply called The Spaniard, exploring the recipe a bit further in this permanent expression.
As John explained, Compass Box likes to use bespoke American oak sherry casks, not European oak, as he finds the typical American oak flavours complement the sherry character better.
The Story of the Spaniard (43%, Compass Box 2018, ex-sherry casks)
Nose: rather smooth. Baked apples, gentle spices (cinnamon) and light citrus peel. Light musty notes. Sherried but clearly influenced by the red wine as well, with red fruits, like strawberries and cream.

Mouth: again rather winey. Strawberries, cherries, cloves and a kind of syrupy grape note. Poached pears. Red berries. Honey and cinnamon.

Finish: medium, on apples and spices.
I'm not generally a fan of red wine matured whisky, but with enough sherry in the mix this suddenly becomes quite interesting and nice to drink. The winey side and French oak are nicely interwoven. Very good blending work again, and well priced too: around € 55.
Score: 86/100
Then there were two bottlings exclusive to The Nectar, Compass Box's importer for Belgium.
When Compass Box finalizes a new batch of whisky, the blended components are married for around 1,5 years for better integration and harmony. The Marrying Cask can sometimes add a bit of extra character as well. The Nectar was offered a chance to select a specific marrying cask and have it bottled for them. In the end they selected two: one ex-Clynelish cask (bourbon) and one ex-Linkwood cask (sherry butt).
This is basically the same recipe as the Artist's Blend, with other nuances and bottled at a slightly higher marrying strength.
Great King Street 'Marrying Cask – Bourbon' (46%, Compass Box for The Nectar 2018, ex-bourbon hogshead #25, 318 btl.)
Nose: starts with some estery fruits and a light balsamic touch. Folds open nicely, with apricots, yellow plums and lemons. Light hints of bubblegum. Vanilla. Still this lightly fragrant edge.

Mouth: big vanilla custard with the typical apples and berries, as well as a firmer spicy kick. Pepper, aniseed.

Finish: medium, on mixed spices, vanilla and sweet fruits.
Really nice, it combines the freshness and fruits of the original blend with a bit more power. Around € 60.
Score: 84/100
Great King Street 'Marrying Cask – Sherry' (49%, Compass Box for The Nectar 2018, ex-sherry butt #4, 564 btl.)
Nose: richer, it doesn't have the estery / solventy side of the bourbon cask, but rather more round vanilla as well as a light lactic note (strawberries and cream). Also fruit cake and mild spices.

Mouth: stewed fruits, red berries as well as citrus. Cinnamon and a hint of candied ginger, altogether slightly more spicy.

Finish: medium, half spicy, half fruity.
This is quite close to the original blend, don't expect a sudden sherry avalanche, after all it's merely finished. That said it is really educational to have them side-by-side, the differences do come out, so maybe you should get both. Around € 60.
Score: 85/100
So even a tasting with mostly blends can be worth the trip. We ended with recent batches of the blended malts Compass Box Spice Tree and Peat Monster. I won't go into detail, both are perfectly nice entry-level whiskies. In the near future they'll update the recipe of Peat Monster by the way, as some of the components are now hard to get. Same style but slightly different character.
Oh and they're working on something entirely new, something that is maybe not even whisky…
The Spaniard and the Great King Street blends are available in Belgium later this week through TastToe (as part of The Nectar) and other retailers. The new Flaming Heart 2018 has arrived in Belgium as well, too bad it wasn't part of the line-up.