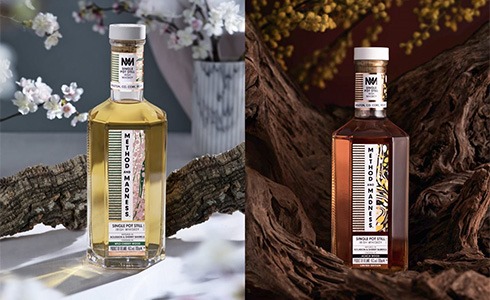 Mildleton distillery launched two new expression in their experimental Method & Madness series.
Both are matured in a combination of bourbon and sherry oak, but they are finished in two wood types that are rarely used for the maturation of whiskey. The first one is Wild Cherry Wood, never used before, which is characterised by its porousness and greenish hue.
The other one is finished in Acacia wood, famous for ageing French white wines, and already used by Bushmills some time ago. This type of wood has a much tighter grain and a redder colour.
Obviously this is where Irish whiskey distillers can colour outside the lines set by Scotch regulations. Good idea to take advantage of this and come up with something new.
Method & Madness 'Wild Cherry Wood'
(46%, OB 2019, 2500 btl.)
Nose: a lot of bananas, both green ones and banana ice cream. Also pine cones and carpenter workshop, a hint of potpourri and bergamot tea. Coconut flakes. Ginger cookies. Very aromatic, in a solventy, woody way but really interesting.

Mouth: like a very active first-fill bourbon cask at first. Gingery notes, pencil shavings, pepper and fruit tea. There's a creamy banana / vanilla syrup sweetness to keep it in check though. Increasing minty / eucalyptus notes.

Finish: medium, on pears and peppery oak.
A green, aromatic kind of woody character here, which matches the spirit. A successful experiment in my opinion. Available in Ireland, the UK, travel retail and a couple of other markets.
Score: 83/100
Method & Madness 'Acacia Wood'
(46%, OB 2019, 2500 btl.)
Nose: this is drier, with less brightness. There's tobacco and plenty of herbs and spice (Colombo spice, clove). Still a firm, slightly musty woodiness – I would still say sandalwood but that's silly in this case. Hints of caramelized almond / hazelnut pastries and cocoa powder. A light rummy touch too.

Mouth: this feels much rougher. Nice mocha, toasted nuts and burnt sugary notes but also a pungent grainy side and lots of wood spice. Less balanced. Hints of peppered dark chocolate.

Finish: quite long, lots of clove and charred wood.
Closer to a sherry cask maturation, with generous spices that make it a little less balanced in my opinion. Available only from Celtic Whiskey Shop.
Score: 79/100