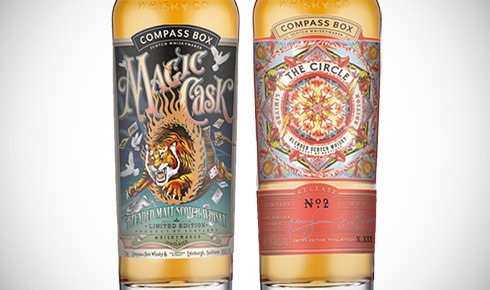 Compass Box Magic Cask
A remake from a Madeira finished expression from 2006, this upcoming Compass Box Magic Cask is a mix of 88% Imperial from first-fill bourbon barrels and 12% of first-fill Oloroso matured whisky from a distillery near Aberlour.
Expect bright fruitiness with a dash of sherry, should be interesting. It will be bottled at a standard 46% ABV.
Compass Box The Circle #2
What does colour taste like? Bartender Mannie Monaghan wanted to make a whisky that expresses the vibrancy of the colour coral. Compass Box The Circle is an exploratory series and this is the second expression.
This blend is composed around Glen Elgin (52%), Speyburn (16%), Teaninich, Ardmore and a parcel of blended Scotch. This will be bottled in April 2020 at 46% ABV as well.
Also interesting
Things that may not have been widely announced but that grabbed my attention in shops recently…