The amount of cognac samples on my desk is building up rapidly and getting out of hand. I will try to go over them soon, but I'll have to split them into at least three sessions, starting with Jean-Luc Pasquet.
We have two official bottlings Cognac de Noël and Cognac de Claude – late 2021 releases, from a series of family treasures from neighbours and friends of Jean and Amy Pasquet. Then we have an outsider 2006 Organic and two 1970s cognacs selected by Spiritus in Hong Kong and Art Malts in Belgium. All Grande Champagne except for Noël's barrel.
I struggled to come up with the perfect line-up, but decided to stick to an increasing ABV.
Jean-Luc Pasquet Lot 94 'Petite Champagne' – Le Cognac de Noël (46,4%, OB 2021, 50 cl, 876 btl.)
Nose: a nicely compact array of minty aromas, baking spice (cinnamon, aniseed) and stewed fruits. Ripe apples and honeysuckle. Later also oranges and tangerines. There's a hint of fresh, slightly peppery oak in the background.
Mouth: sweet, with oranges, plum cake, more cinnamon and hints of citrus peel. Quinces. Then the peppery comes back, adding some tension, with liquorice and nutmeg. Peppermint and gingerbread.
Finish: quite long, still quite spicy, with fruity notes in the background.
A great start. This has a firm spicy footprint but its keeps a lovely elegance with a well  integrated fruitiness. Still available from TWE for instance and there for around € 90 – excellent value for money.
Jean-Luc Pasquet Lot 84 'Grande Champagne' – Le Cognac de Claude (49,8%, OB 2021, 50 cl, 731 btl.)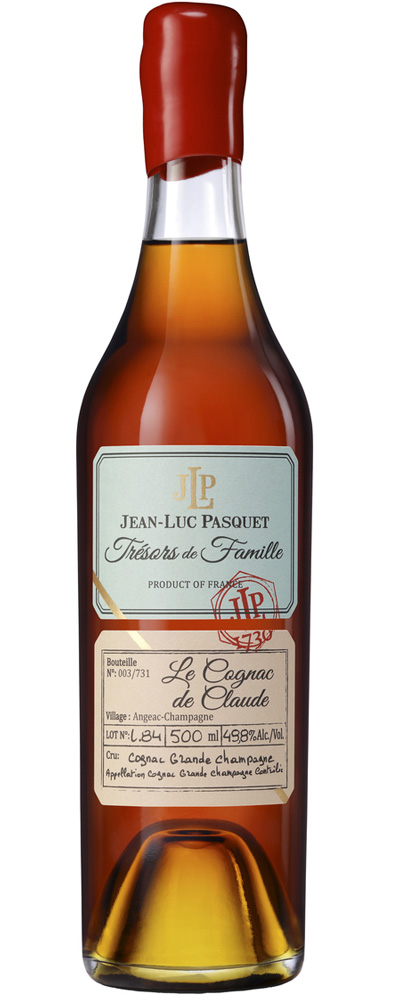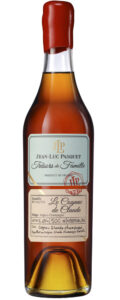 Nose: this is immediately more expressive and more juicy. There's plenty of plummy notes, mirabelles, with a generous dollop of honey and a few raisins. Even raspberry candy. More on fruit syrup. More rancio, as well as a hint of cocoa and verbena.
Mouth: oily texture, still showing this candied fruitiness, with red berries, peaches, grapes and plums before it goes to spicier / herbal notes and hints, chocolate of tobacco leaves. Gets a little earthy towards the finish.
Finish: very long, full, on fruits and honey, with sweet tobacco and gentle herbal notes.
This is a lot more 'gourmand' than the Lot 94. While the earthy spice is louder here, I fell in love with the nose and the syrupy fruits. Still available for around € 150. Available from TWE for instance. Score: 90/100
The next one comes from the company's own vineyard in Grande Champagne, where hand-picked Ugni Blanc grapes led to a certified organic cognac. Contrary to the other (old) cognacs from Pasquet, which are bought in from other producers, this was the first self-distilled cognac, matured for over 15 years in Limousin oak.
Jean-Luc Pasquet 2006 Organic 'Grande Champagne' (50,1%, OB for Kirsch Import 2021, cask #27)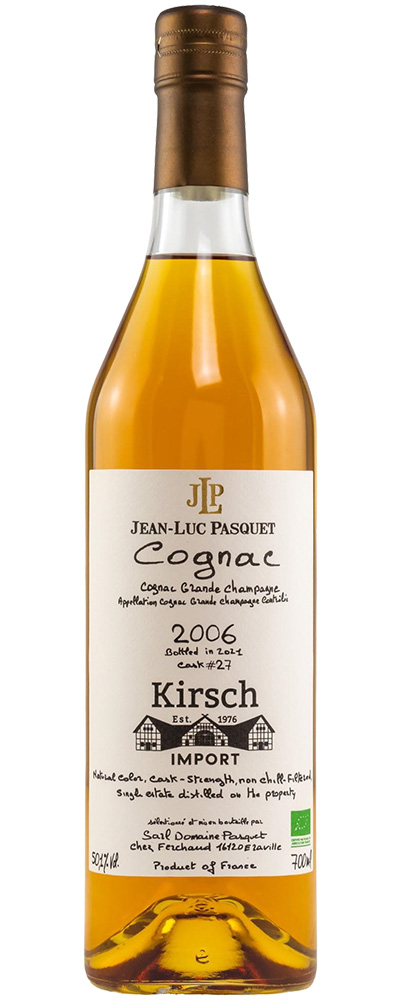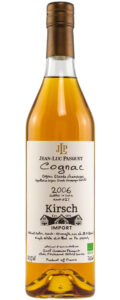 Nose: I'm struck by mineral notes, even a light metallic touch at first. Then aniseed before it moves to fruity notes like (unripe) pineapple, lemon zest and plenty of apples. Hints of Calvados. A little buttery vanilla and a hint of cigar box and pencil shavings. Quite unusual.
Mouth: rather sweet now, with apples in the lead again. Baked apples and tarte tatin, alongside white grapes, pepper and mint. Cinnamon, vanilla and a hint of salted caramel. Youngish, grassy and spirity sharpness is inevitable of course.
Finish: medium, more narrow now, with oak, liquorice and… apples.
Not necessarily the cognac profile we prefer, but really interesting, with a good focus but also a few uncommon aromas and a slightly wild side. Around € 80 in Germany. Score: 83/100
The next one is bottled for Spiritus, a team of spirits lovers from Hong Kong. They're working with Pasquet to launch a new Half-Century series. This first bottle is 50 years old but a 6x years and 7x years will follow.
Jean-Luc Pasquet 50 yo Lot 71 'Grande Champagne' (51,9%, Spiritus 2021, 150 btl.)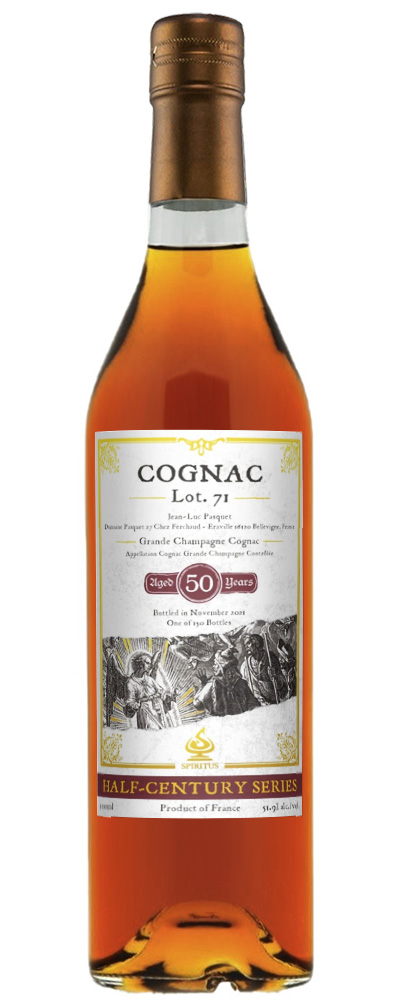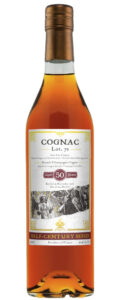 Nose: a very classic, harmonious nose. Quinces, damsons, then moving towards pastry (raisin rolls) and toffee. Spices are fairly gentle. Also nice hints of polished oak, humidor, old potpourri and dark honey.
Mouth: highly integrated and elegant. Caramelized nuts and hints of tobacco before its opens up on nectarines, tangerines and other rather acidic fruits. Also fruit tea and mint. Bright rancio. Even a (short) flash of passion fruits and pink grapefruit. Lovely.
Finish: long, fruity, with hints of herbal tea and this juicy acidity.
Quite excellent, mixing bright juicy fruits with slightly more robust notes, while keeping the spices in the background. Only available from Spiritus, not sure about the price. Score: 91/100
We round off this session with a 42 year old cognac nicknamed La Joyeuse. It was bottled by Malternative Belgium for Art Malts, a Belgian spirits shop. The lady on the label is the owner's grandmother, which he has never seen angry.
Jean-Luc Pasquet 42 yo Lot 79 'Grande Champagne' (57,8%, Malternative Belgium for Art Malts 2021, 81 btl.)


Nose: this revolves around polished oak and lovely waxy notes. Then it gains plums, raisins and old flowers. Hints of a wine cellar, precious tobacco and light mocha. Gingerbread and candied orange peels.
Mouth: slightly darker than expected, with generous fruity notes. Plums, red berries, sour cherries. Calvados too. Then cinnamon and candied ginger, with some burnt sugar, heavily infused fruit tea and a light chestnut / walnut bitterness.
Finish: long and becoming quite dry, on sappy oak, sweet grapes and herbal notes.
Another high quality release, albeit from a very active cask, no doubt. The nose is wonderfully rich, with nice rancio notes and elegance. On the palate it is again very full, but it becomes drier and more woody. Only available from Art Malts. Score: 89/100