Midleton Very Rare must be one of the longest running series of annual releases. It was first launched in 1984 by master distillery Barry Crockett and this year we're seeing the 39th edition, composed by Kevin O'Gorman.
Midleton Very Rare 2022 is a blend of pot still whiskey and grain whiskey between 12 years and 33 years, aged in lightly charred American oak ex-bourbon barrels. Feel free to compare to the previous Midleton Very Rare 2021
Midleton Very Rare 2022 (40%, OB 2022)
Nose: generously fruity, mainly on peaches and tangerines. Subtle mango and banana. Hints of vanilla and marshmallows follow closely. Toffee apples with hints of pepper. Light floral overtones. There's a hint of toasted wood and hazelnut cream as well. I must say the grain whiskey is remarkably well integrated and doesn't impose itself in any way.
Mouth: smooth and fairly oily. This time the bourbonny oak is a bit louder, with hints of leather, pepper and aniseed. The grainy core comes out more too, with the mix of apples and mango further down the line. Hints of vanilla cream and slightly burnt sugar, ending in floral notes.
Finish: reasonable length, softly fading into pot still spice on a fruity background with vanilla.
A good edition of Midleton Very Rare, better than last year's version in my opinion. It's all about smoothness and it excels at that, at the expense of more intense richness though. This will become available now in different markets, for around € 200.
Irish Distillers were kind enough to also include different other editions, so we have a chance to put the new version against the Midleton Very Rare 1985 bottled 37 years ago. To add some extra depth these first expressions also contained casks from the Old Midleton distillery which closed its doors in 1975.
Midleton Very Rare 1985 (40%, OB 1985)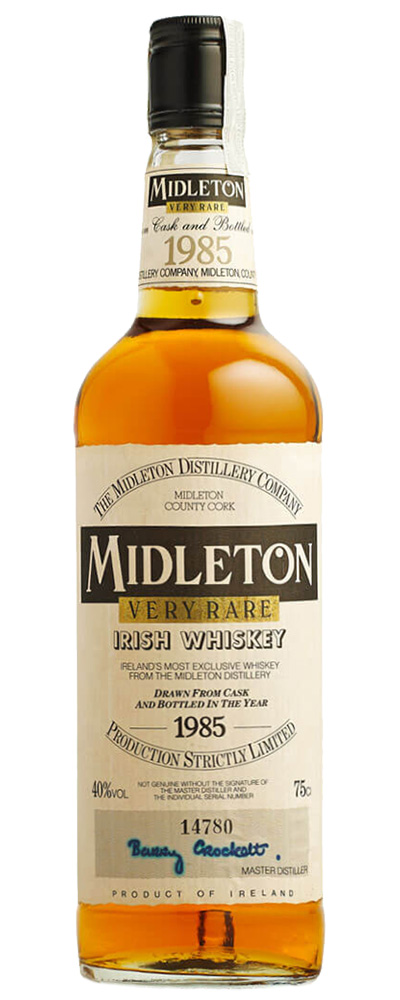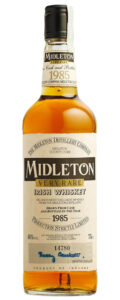 Nose: starts a little coppery, with subtle silver polish, some sawdust and almonds. Behind this is a pretty great layer of passion fruits and pink grapefruits, but it's a little thin and the fruits struggle to be noticed. A few green, leafy notes and a whiff of alcohol too.
Mouth: more grainy then the modern version, with breakfast cereals and bready notes. Caramel sweetness and hints of burnt wood. The fruity notes (bright citrus and papaya) are still there. This feels like a much younger blended whiskey, but it's definitely a nice profile.
Finish: not too long, with caramel notes, nutmeg, alcohol and nuts.
The average age of this 1985 edition is a lot lower (I couldn't find the data but the 1984 edition was 9-13 years). While the profile is thinner and more grainy, there's a nice fruitiness to balance it. Times have changed though, and the level of quality is higher today. Still available from The Whisky Exchange, if you fancy a bottle… Score: 82/100