Kirsch Import secured two heavy hitters from the Signatory Vintage stable (which they are importing into Germany). Both whiskies are first fill sherry butts.
The first whisky is Glen Elgin 2008, the darkest of the two although the label says it's merely a sherry finish. The lighter one is Macduff 2009 but this is apparently a full time sherry maturation.
Glen Elgin 14 yo 2008 (55,7%, Signatory Vintage for Kirsch Import 2022, first fill sherry butt finish #9, 639 btl.)
Nose: figs and caramelized nuts, followed by herbal syrup. Spiced chocolate ganache, as well as some chocolate coated cherries. Toasted barley. Hints of orange peels dipped in vermouth. Also a little vanilla in the background. Glen Elgin is a fruity spirit and this combines nicely with the autumnal sherry character.
Mouth: same mix of cherries and dark plums, with a firm hint of black peppercorns. There's a wee fruity sourness, combined with a vermouth-like combination of spices and orange peels again. Then it moves towards dark chocolate and bitter coffee. Some gingery notes too.
Finish: quite lengthy, mainly showing chocolate and coffee notes.
This Glen Elgin comes from a proper, clean sherry cask. These hints of vermouth are quite nice. Oloroso, I'd say? A solid whisky and a good selection. Around € 100 in plenty of German stores.
Now let's prepare for almost 64% ABV…
Macduff 13 yo 2009 (63,9%, Signatory Vintage for Kirsch Import 2022, first fill sherry butt #900347, 648 btl.)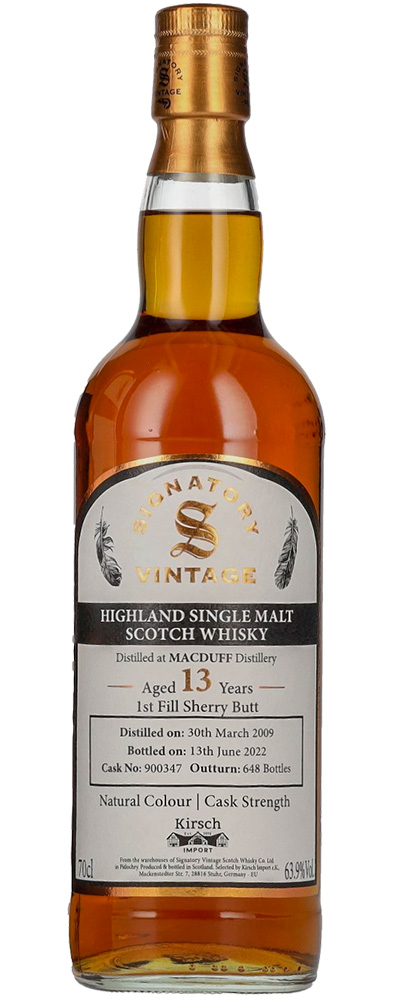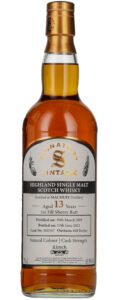 Nose: a slightly dustierstart at first, with roasted chestnuts. Quickly though it becomes more candied, on strawberry candy, ripe melons and butterscotch. Then a little mocha and whiffs of rather fresh, seasoned oak.
Mouth: still really sweet, on brown sugar chocolate, salted caramel and maple syrup. Then baked bananas and roasted almonds. Very strong, with a big spicy footprint. Ginger and pepper. A slightly charred note in the background.
Finish: pretty long again, with chocolate and mocha.
This feels more like a Pedro Ximénez cask to me. Like in the Glen Elgin, you clearly feel the modern, toasted and spicy sherry wood but the roundness and balance are rather flawless. Cheaper as well: around € 80. Score: 88/100