Two casks from the latest batch of Whisky Agency releases. Somehow they ended up in the back of my sample boxes but it's never too late. The first release is a 14 year old Aultmore matured in a Fino sherry butt, the other a similarly aged Mannochmore.
Aultmore 14 yo 2007 (52,7%, The Whisky Agency 2022, refill Fino sherry butt, 239 btl.)
Nose: very fresh, with lots of green apples, juicy lemons and a hint of greengages. There's a soft oiliness (sunflower oil), as well as gristy notes and whiffs of wax candles. Also a very subtle note that keeps the middle between floral and coastal. Prefect brightness.
Mouth: a similar mix of gristy and grainy notes with some lemon balm, verbena and unripe, green fruits. Lime (blossom). A very light saline touch again, with a peppery edge too. Very chisseled with a restrained cask influence.
Finish: medium long, becoming zesty and slightly chalky.
A distillate-driven Aultmore. A really bright and fresh look upon the spirit, which is nice as most of the independent bottlers seem to focus on darker Oloroso bottlings. A bit expensive though, given the limited complexity. Still available in a few shops like Whiskysite.nl.
Mannochmore 13 yo 2008 (53,6%, The Whisky Agency 2022, bourbon barrel, 203 btl.)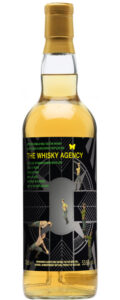 Nose: equally fresh but with a riper fruitiness to it. There's peach and ripe apples, with a nice waxy fattiness. Paraffin and lemon balm. A light mentholated edge as well as some honey.
Mouth: the same mix of sweet fruit cocktail with a waxy / creamy side and minty oak. Mango and lemon, with lime and a subtle chalky note. Then a little vanilla and oak spice, with light menthol and a hint of coconut. The bourbon cask had more to say here, but I'm sure it also enriched the fruity core.
Finish: quite long, with more of this fruity creaminess alongside gingery oak.
Very pleasant Mannochmore, with a glorious waxy texture and nice fruits. You can sense the bourbon in the background but I don't mind. I would recommend this one, but I'm afraid it's sold out. Score: 89/100