We start with an undisclosed Speyside single malt. While the label clearly depicts Glenfarclas distillery, another bottler released a sister cask #44 and claims it's from a Chivas distillery. Anyway, bourbon casks can be quite interesting, coming from Glenfarclas.
The second release is a 12 year old Aultmore whisky, also from a bourbon cask.
Secret Speyside 13 yo 2008 (52,3%, Roger's Whisky Co 2022, bourbon cask #41, 283 btl.)
Nose: quite neutral, with plenty of cereal notes, hay and pears. I also get hints of ginger and orange peels, fresh almonds and mint leaves. In the background there are leafy notes, broken branches and hints of grass. Not hugely exciting so far, but a pleasant look at the spirit character nonetheless.
Mouth: still very close to the raw materials. That means lots of malty notes, breads and beers. Then some orchard fruits (apples, pears, peaches) and hints of leather. Gentle baking spice, including nutmeg and ginger. Subtle orange notes.
Finish: medium length, clean and grainy. Hints of marmalade and spice as it dies out.
A good spirit that could have benefited from a few extra years in the cask. When benchmarked against official high strength versions, it lacks a bit of courage (and perhaps a little sherry complexity) to really stand out. Both releases should appear soon at selected retailers in the UK and Europe.
Aultmore 12 yo 2010 (63,5%, Roger's Whisky Co 2022, bourbon cask #21254, 335 btl.)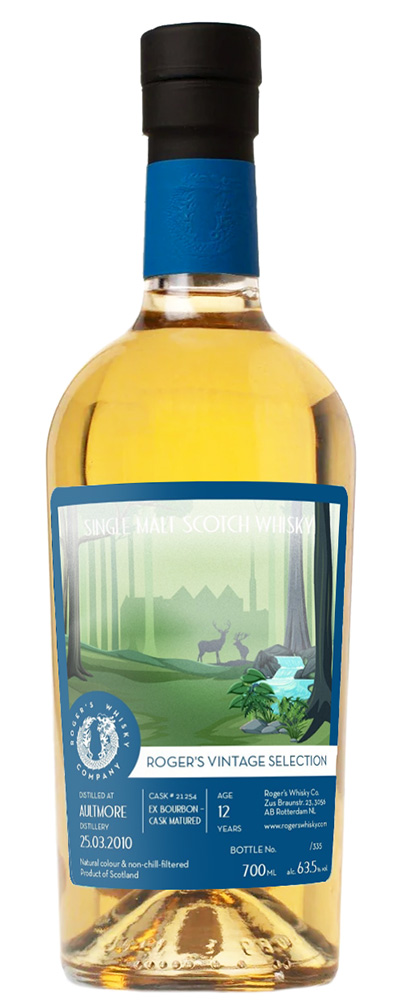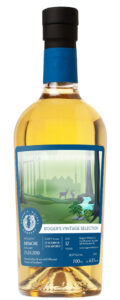 Nose: fresher and fruitier, although it's slightly boozy. A lot of green apples, sweet lemons and green plums. Hints of vanilla and icing sugar. Some gristy notes underneath. Later it also develops cool mint and light spice.
Mouth: quite hot of course, showing a nice texture, a lot of sweet barley notes and green fruit eau-de-vie. A crystal clear profile, albeit a bit narrow with a limited fruitiness. White pepper and a drying note as it fades. Water makes it slightly fruitier (mirabelles and citrus) and brings out a latte note but doesn't add a lot of complexity.
Finish: short, although it's nicely fruity and honeyed.
Here as well I have the feeling the spirit hasn't reached its maturation peak yet. Nonetheless it's a nice whisky with a natural charm and a lot of potential for summertime. Score: 85/100