We've tried a number of releases from the Cut Your Wolf Loose label last year. Remember the lovely Islay Blended Malt from a Vino de Color cask?
Seb Woolf is running this label, alongside the Artful Dodger brand and a whisky bar in Brighton. Today we can have a look at a couple of new releases
Bowmore 26 yo 1997 (49,5%, Cut The Leftovers Loose 2023, refill hogshead, 40 btl.)
Nose: mentholated, "evolved" peat with walnuts and oily notes, some chalk and citrus zests. Then it gets quite medicinal, with mercurochrome and hints of mouthwash. Whiffs of papaya and pink grapefruit appear in the background, as well as sunflower oil and wet wool.
Mouth: there's a hint of the tropical fruits that you sometimes get in Bowmore from this era, but not much. Quite a lot of grapefruit and lemon freshness though, with cold ashes and mild diesel-like notes. Then a pretty big wave of medicinal notes (antiseptics) and peppered seawater. Linseed oil too, this is quite a fatty version.
Finish: rather long, on waxy notes and seawater, as well as menthol cigarettes.
Always a nice mix of seaside austerity and (citrus) fruits, alongside ashy and medicinal notes. Beautiful Bowmore. Very limited of course, but worth keeping an eye on, as it will go on sale soon.
Ardbeg 14 yo 2008 (63,8%, Cut Your Wolf Loose 2023, refill butt, 274 btl.)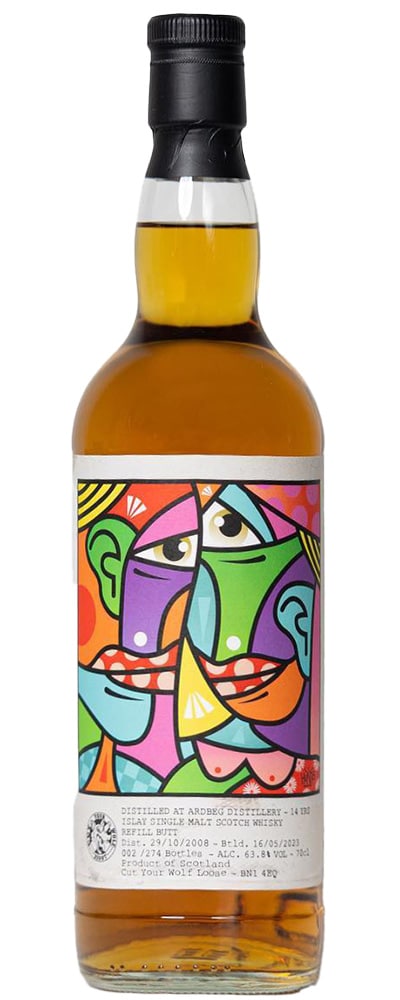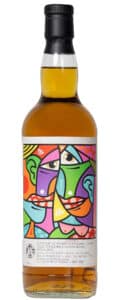 Nose: whiffs of matchstick heads, alongside smoked bacon, liquorice, pipe smoke and some tarry elements. Hints of spearmint freshness and menthol, kippery smoke and whiffs of gravel.
Mouth: clearly some sherry sweetness in the background (blackberry) but otherwise this is a firm, sharp and savoury Ardbeg. Moist tobacco, crushed black peppercorns, salted lemons, as well as heavy liquorice. Seawater and leafy notes. Later some bitter herbs and a hint of leather come forward.
Finish: very long, still plenty of salty liquorice, with a light rubbery touch and more black pepper.
Quite a bestial Ardbeg, with a firm coastal core and a leafy sherry influence that amplifies the savoury side. In general I prefer naked Ardbegs but this works really well. Score: 88/100
Ben Nevis 5 yo 2017 (67,1%, Cut Your Wolf Loose 2022, STR American oak barrique #7877A, 190 btl.)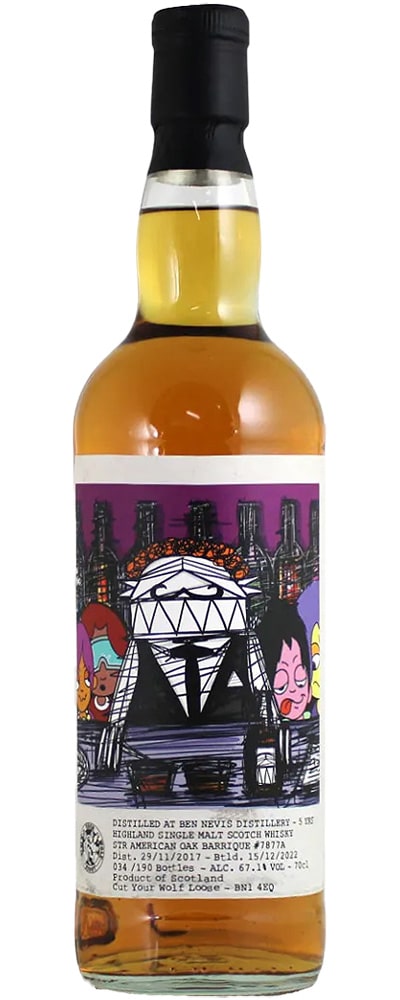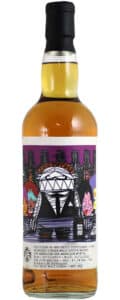 Nose: the STR barrique already brings caramel sweetness and plenty of minty notes. Subtle vanilla, a very subtle meaty note (bacon?) and rosemary. Hints of cheesy Doritos after a while, as well as… a festival toilet, somehow. Not what I expected, let's keep it at that.
Mouth: now slightly more recognizable as Ben Nevis. Gristy, slightly meaty spirit. Young and quite hot though. Something of agave spirit, a little mustard and ginger, malty beer. Pepper and mild smoky notes too, with a drier chalky note in the distance. Something vegetal too, maybe spinach?
Finish: long, but slightly undefined and spirity. Metallic notes, something milky, and aniseed.
Oh boy, this is a rollercoaster, including some notes that I've never had before. I find this really hard to describe, and hard to appreciate for that matter. Definitely a fun bottling to have with friends, bringing up weird associations. Personally I would have forgotten about this cask and checked back in a few years. In any case, quite a session! Also available from Tyndrum Whisky for instance. Score: 79/100