The Whisky Jury recently presented new releases. One of them is the 70th release and 4th anniversary bottling: an undisclosed Islay Single Malt 30 Year Old. This comes with a beautiful jaguar label, with a bronze line drawing similar to the Glenrothes 1986.
The other one is a new Ben Nevis 1996, a joint bottling with Whisky AGE in Taiwan.
Ben Nevis 27 yo 1996 (54,9%, The Whisky Jury + The Whisky Blues 2023, refill hogshead #843, 90 btl.)
Nose: ah, typical muddy clay notes, with something creamy / pastry-like, a little pepper and some vague, pulpy sweetness that is hard to pin down. Echoes of fruit without being actually fruity, does that make sense? Polished brassware. Then mineral touches, old wax, hints of proper vanilla and autumn leaves. After a while the sweetness clears up and gives way to papaya and pink grapefruit. Great.
Mouth: wood spice up front, alongside chalky notes and hints of sweet mustard. Then more grapefruit, tart apple and unripe banana mixing with salty notes, nuts and tea. Mineral oils. Hints of herbal bitterness, grape pips, cardamom and perhaps a touch of aspirin.
Finish: long, rooty and zesty. Quite chiselled, with herbal notes and citrus.
Definitely a spicier cask than some of the others. It opens up nicely but needs some time, and the tropical fruits are less pronounced this time. Complex, rewarding whisky though. Check thewhiskyjury.com for a list of retailers.
Islay Single Malt 30 yo 1993 (52,7%, The Whisky Jury 2023, refill barrel #199323, 231 btl.)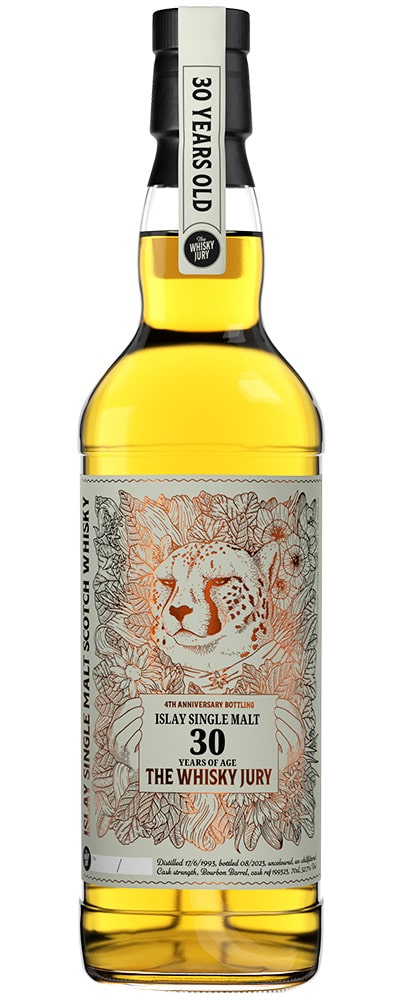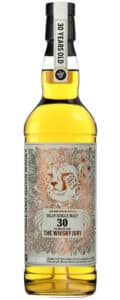 Nose: very medicinal, with a lot of iodine, bandages and mercurochrome. Raw wool, beach sand and smoked kippers. Then grasses, wet ashes, subtle coal tar. A little vanilla and sweet lemons in the background.
Mouth: again surprisingly medicinal and austere for such a high age – this hasn't transgressed towards waxy fruits yet. Lemon zest, grapefruit juice, with pine liqueur and mercurochrome. Drops of Chartreuse. Then herbal tea, chalk and plenty of earthy notes.
Finish: long, ashy and very medicinal again. Iodine and dried herbs.
This should be from the same distillery as the 1990 Secret Islays. It reminds me of the 1993 from Thompson Bros – if anything it confirms the fact that 1992/1993 is less fruity than 1989/1990. Overall it may be slightly narrow, but it's also offering plenty of power and maritime character. Score: 90/100