Dràm Mòr is the brand founded in 2019 by Viktorija and Kenny MacDonald. Both had been involved with several whisky companies before founding their own independent bottling business. Their single casks (whisky but also rum and armagnac for instance) are available in 14 countries worldwide.
We have a chance to review the Spring 2023 releases, which came in a bit later than expected. Six middle-aged whiskies from a wide variety of cask types.
Mannochmore 13 yo 2010 (54,8%, Dràm Mòr 2023, refill bourbon hogshead #3088, 275 btl.)
Nose: a fruity profile. Pear drops, golden apples, peaches and a hint of tinned pineapple. Lightly spiced honey appears. Then a slightly buttery side (sablés from Normandy) and hints of vegetal oil. Touches of sawdust after a while.
Mouth: a sweet and creamy fruit cocktail. Peaches, white grapes, apples and maybe whitecurrant jam. Later zesty citrus appears with peppery heat and hints of caramel toffee and candied ginger. Orange peels in the end.
Finish: medium, with more lemons, hints of vanilla and ginger alonside warm peppery oak.
A rather classical Speyside profile perhaps. However, the warm fruitiness and spirit-led character with plenty of weight makes this a nice dram. Still available from Master of Malt or Royal Mile Whiskies for instance.
Speyside 8 yo 2014 (51,7%, Dràm Mòr 2023, first-fill Moscatel cask #2432, 289 btl.)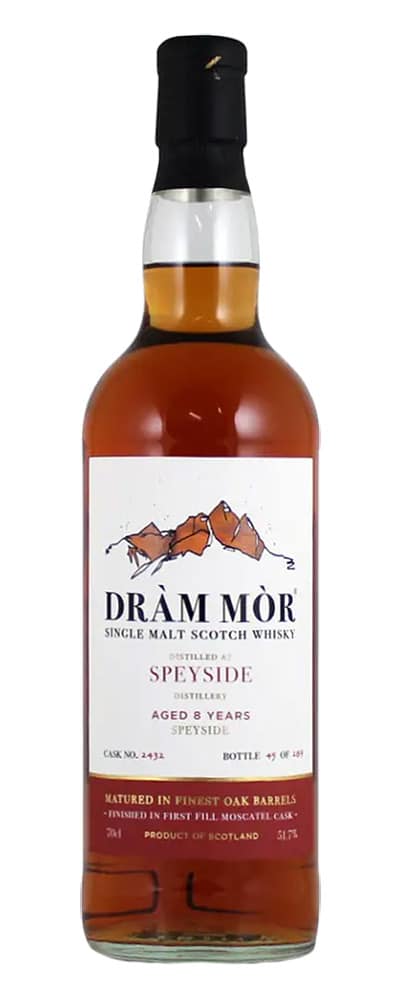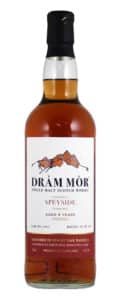 Nose: red fruit candy with some caramelized notes and biscuity malt. Pears poached in red wine. Then it turns to almond and hazelnut with a roasted edge – sulphury matchstick heads in fact. Floral honey (the typical Moscatel note) and cinnamon pastry in the background.
Mouth: a lot of syrupy grapes now, with a fragrant note and plenty of marmalade. Red berries on top of soaked porridge. A youthful spirit, and the sweet wine and floral honey are quite on top. Then some cloves and candied ginger come out, as well as black pepper. Still a roasted hint, with plain oak towards the finish.
Finish: medium length, with oak spice, candied fruits and agave syrup.
This is from Speyside distillery by the way, so not an undisclosed dram. Overall quite a winey whisky, with the Moscatel (I suspect a Portuguese Roxo) taking the upper hand. It shows some quirky elements – rather interesting but not entirely integrated. Still available from Master of Malt or Tyndrum Whisky for instance. Score: 81/100
Tullibardine 8 yo 2015 (53,7%, Dràm Mòr 2023, first-fill Oloroso sherry hogshead #650932, 245 btl.)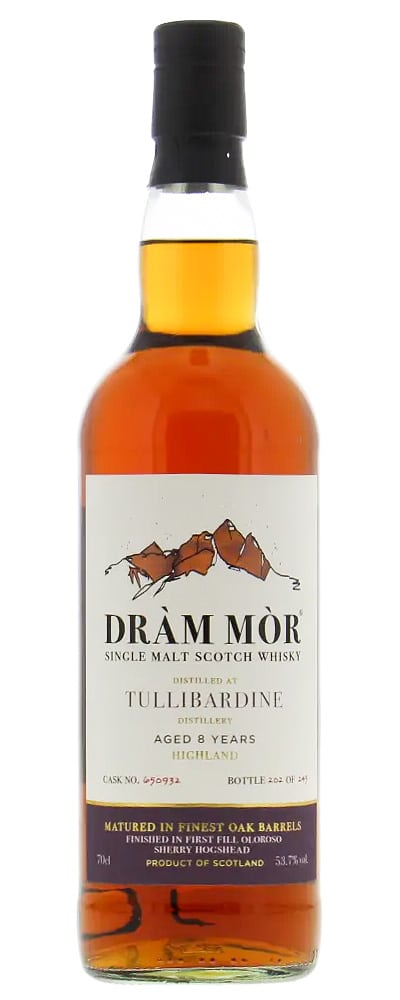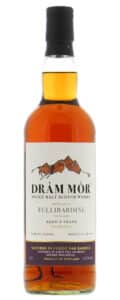 Nose: dried fruits up front (sultanas, dates) with a toffee sweetness and hints of vanilla. Caramelized notes, walnut cake and hints of orange peels. Then fragrant hints of wood and floral honey, as well as juicy berries. There's a hint of newish oak and leather, making this quite wide and aromatic.
Mouth: more toffee, fresh figs, raisins and sour red berries, leading to darker chocolate notes. Also hints of black pepper and cinnamon. Walnut or pecan pie. Traces of Aberlour A'Bunadh now. Then hints of drying cedar wood and polished oak come out, with a light leathery note.
Finish: rather long, on drying exotic wood and plenty of sherry spice, against a backdrop of plums and raisins.
A very nice, modern sherry bomb profile. There's dried fruit sweetness, nicely balanced with drier woody notes. Really pleasant, probably the best whisky in this line-up, and a no-brainer at this price. Still in stock at Royal Mile Whiskies. Score: 87/100
Blair Athol 11 yo 2011 (56%, Dràm Mòr 2023, refill bourbon hogshead #308910, 305 btl.)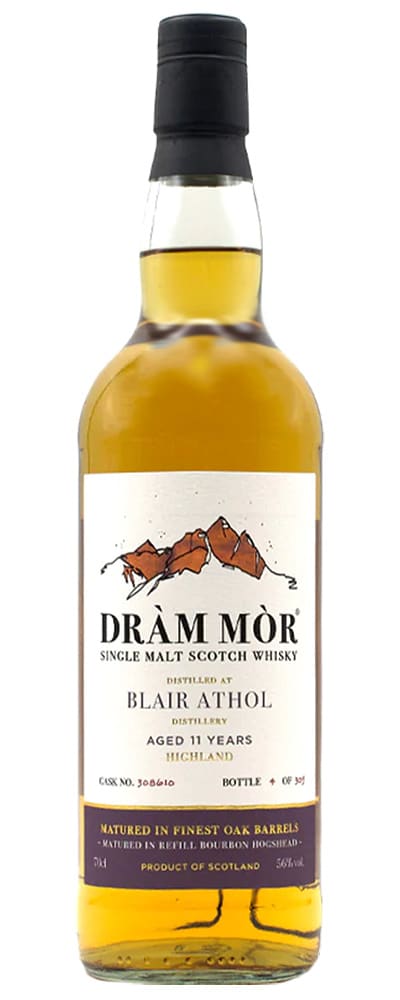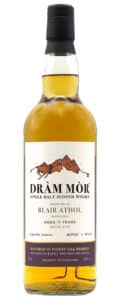 Nose: green fruits and spices. Also plenty of grassy notes and straw. Then vanilla, fresh laundry and lemons. Herbal tea as well. A tad austere after the others, leaving an impression of raw spirit and fresh wood at the same time.
Mouth: a little raw again. Barley and lemon spirit with white pepper, and you need to pull hard to get out more. Barley and vanilla, sure, but also grainy alcohol. Lemon zest alright. I'm doing the best I can, but no.
Finish: medium length, still fairly neutral. Still plenty of lemony notes, getting slightly more honeyed in the end.
This one didn't quite click – neutral is never a good sign for me. Still available from Master of Malt or Royal Mile Whiskies. Score: 80/100
Benrinnes 10 yo 2013 (57,5%, Dràm Mòr 2023, refill bourbon hogshead #300745, 278 btl.)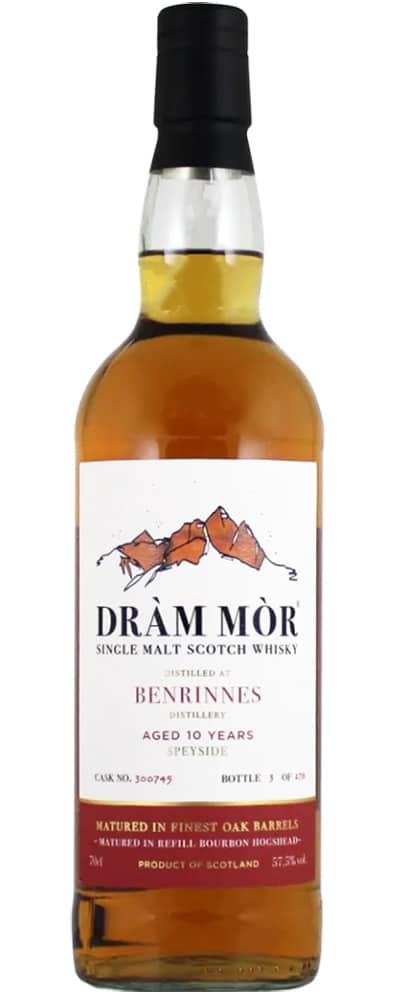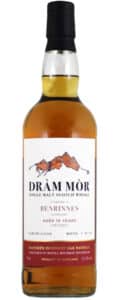 Nose: slightly fierce, with an assertive wave of freshly sawn oak and vanilla. Sandalwood. White pepper and candied ginger. Then a syrupy sweetness (peach jam) appears in the background, with honey and hints of flower petals.
Mouth: the same fruity sweetness (apricot jam, caramelized banana and tinned pineapple) alongside dusty woody notes. Bordering American bourbon whiskey at times. Fresh oak shavings, hints of vanilla, peppermint and toast. Clove and pepper, leading to plain tannins in the end.
Finish: quite long, still plenty of tannins with bittersweet spice, grass and hints of roasted apple.
Quite sweet and woody, this Benrinnes, turning into a hybrid of American and Scotch whisky. Actually not bad, but slightly too 'in your face' to become a daily sipper. Check Royal Mile Whiskies or Tyndrum Whisky. Score: 84/100
Glen Garioch 10 yo 2013 (57,1%, Dràm Mòr 2023, ex-Islay hogshead #1005, 225 btl.)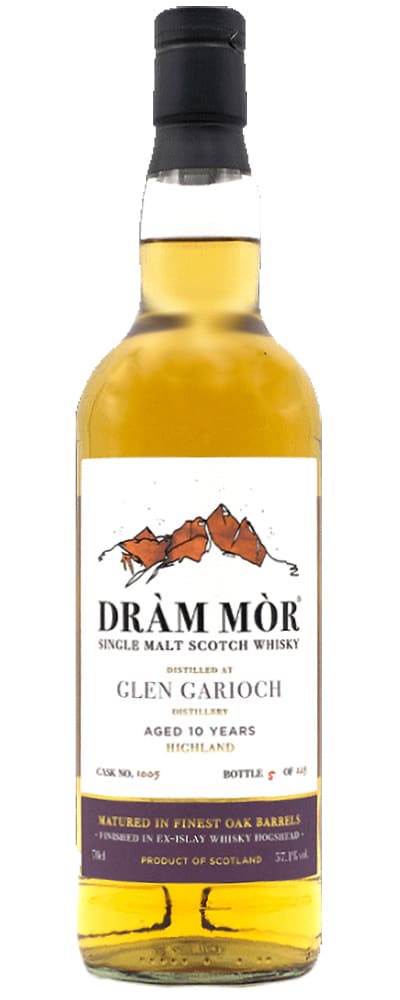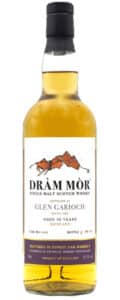 Nose: fairly neutral at first – it needs some time to open up. Gristy start. Then mild fruity notes come out (orange, sour apple and melon) but also some kind of lactic / dusty cellar / farmy combination. In the background there are mentholy notes and hints of cold ashes.
Mouth: now the Islay component is much more prominent, albeit in a fairly thin profile. Lots of ashes with mild campfire smoke and dried seaweed. More green apples and vanilla in the background, as well as dusty books, white pepper, peanuts and hints of damp cloth. Something floral too, which seems out of place here.
Finish: long, on cigarette ashes, vanilla and pepper.
It's an interesting idea to mature Glen Garioch spirit in an ex-Williamson cask. The end result is a little funky: the Laphroaig elements are thinned out and the Glen Garioch side is not very talkative. Bonus point for the idea, but the balance could be better. Check Royal Mile Whiskies or Tyndrum Whisky. Score: 83/100