The scope of this project is enormous and just like in a real play, there is a long list of credits. Lexi Burgess of Livingstone Rare is the director, the mastermind if you like, overseeing the concept and bringing it all together in a stunning collection. Then comes Dave Broom, the writer. He wrote portraits of each Macbeth character, finding analogies in spirit types, cask types or geographical connections. Elixir Distillers sourced the whiskies from their vast network, managed by Sukhinder Singh and Oliver Chilton. Last but not least, renowned artist Sir Quentin Blake provided unique drawings for each label.
There are 42 whiskies in six series:
The Leads: 5 regal single malts, each limited to 100 bottles
The Thanes: 12 noble single malts
The Ghosts: 6 single malt / single grain whiskies from ghost distilleries
The Witches: 4 unnamed smoky malts and blends
The Murderers: 4 unnamed Island malts
The Household: 10 characterful Scotch whiskies
They will be released in five acts from now until 2027. In the first act (which can be purchased as an entire set of nine bottles) we have a couple of affordable whiskies with high yields and aged between 10 and 20 years, leading up to four rare expressions that are 31 years. The culmination point is King Duncan, a 56 year old Glen Grant.
The attention to detail is magnificent. If you come accross a bottle, be sure to get a good look at it. The bottle shape is unique, the labels are beautifully done, the fonts, the texts on the back labels, the depth of information about the whisky involved… it's all perfectly executed. So much work has gone into this! Furthermore, add in the awesome scale of the collection and you can only describe it as a piece of art.
Blair Athol 10 yo 'Bloody Sergeant' (51,8%, Livingstone / Elixir Distillers 2023, Macbeth – The Household, bourbon hogsheads + recharred red wine casks, 2800 btl.)
Nose: quite rich and forthcoming. Plenty of yellow apples at first, evolving towards baked apples, with oranges, baking spice and a malty core. Cinnamon and nutmeg. Toasted cake. Some minty freshness as well. Then raisins and toffee, as well as a whiff of milk chocolate. Nice complexity.
Mouth: the spicy side comes out more now. Clove and liquorice, with undertones of a dark and slightly bitter ale. Leafy notes, blackberries and malt extracts. Hints of ginger, chocolate powder and burnt pastry. The red wine is easy to notice, but more in the tannic side rather than red fruits for instance.
Finish: long, still quite spice-forward, on black tea and light tannins and cinnamon against a backdrop of cocoa.
At this point I wish I knew Macbeth better, but apparentlyThe Bloody Sergeant appears very early on, bleeding heavily from the battle. It's clear that the whisky reflects this character. It is a robust, autumnal whisky with a bold structure. While the wine influence is a little too grippy for my taste, I think it is perfect for a wounded, bleeding character.
If you're in the UK, then bottles can be ordered from Livingstone Rare. For international deliveries The Whisky Exchange is the place to be.
Cambus 31 yo 'First Ghost' (46,2%, Livingstone / Elixir Distillers 2023, Macbeth – The Ghosts, refill hogsheads, 650 btl.)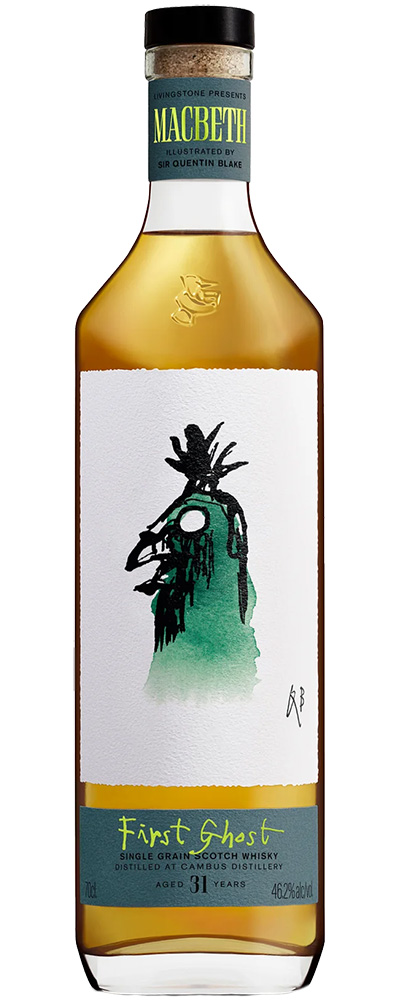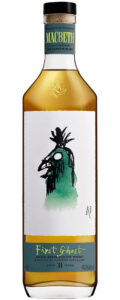 Nose: green fruits with hints of vanilla but also an acidity that is typical of Cambus. Lemon / lime with some vanilla and cake in the background. Jelly babies. Then a suble hint of green tea and white rum. Fresher but also slightly thinner than I expected.
Mouth: a little more coconut now, with hints of vanilla but staying clear of excessive sweetness. A little sunflower oil, more lemony notes and a touch of young white rum. Then also drops of herbal extract and a light woody edge. Fresh but rather limited in terms of complexity, especially in a line-up with very characterful single malts.
Finish: medium length, on coconut water with vanilla and fresh oak shavings.
Cambus is a rare ghost distillery indeed, but not the most exciting release in this batch. Overall it's nice to have diversity in the collection, but I'm sure we're only starting up. Available from The Whisky Exchange. Score: 85/100
Ardmore 12 yo 'Seyton' (52,5%, Livingstone / Elixir Distillers 2023, Macbeth – The Household, ex-Laphroaig American + European oak barrels, 3200 btl.)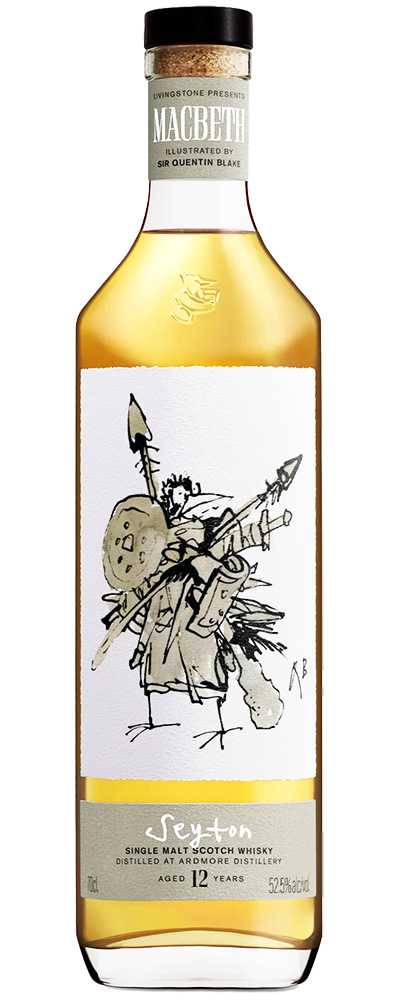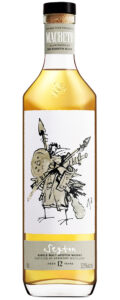 Nose: iodine and tree barks, alongside lemons and bandages. More medicinal than your typical Ardmore. On the other hand there are more vegetal notes (turnips and celeriac leaves) than your typical Laphroaig. Then also kelp and wet rocks.
Mouth: citrusy notes and medicinal peat, followed by black pepper and mustard notes. Hints of coffee beans. Sweet oak and radishes. Lemons, brine and hints of burnt herbs, always with a savoury edge.
Finish: rather long, on similar notes. Pepper, lemon, brine. A few herbacious touches as well.
This almost feels like a blended malt, combining the vegetal Ardmore style with a bit of medicinal Islay character. Overall a pleasant middle-aged peaty dram. Available from The Whisky Exchange. Score: 87/100
Isle of Mull single malt 18 yo 'First Murderer' (50,5%, Livingstone / Elixir Distillers 2023, Macbeth – The Murderers, American oak hogsheads, 2100 btl.)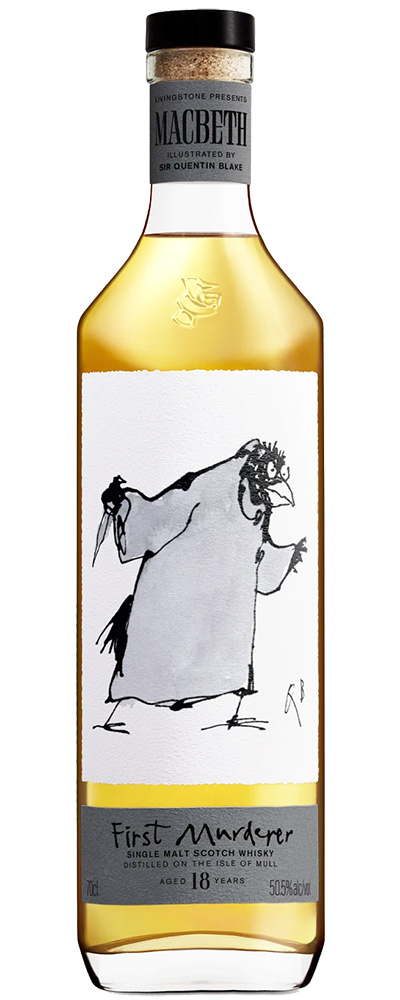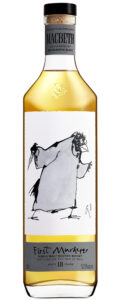 Nose: a cleaner style of peat than the Ardmore. A little ink, with lemons, fresh almonds and some olive brine. On the other hand it has a waxy / fatty side that I really like. Grape pip oil. Then zesty notes and whiffs of polished brash too. Really mature.
Mouth: a nice oily mouthfeel with a fairly gentle profile. Smoked fish, hints of green tea and black pepper. Roasted almonds and lemons in the background. Subtle olive notes and warming wood smoke later on. A few drops of Manzanilla as well.
Finish: long and ashy, with deep smoke and seaweed. Lapsang tea and coffee.
Classic Ledaig with a mature, polished character. I love its warmth, depth and oily mouthfeel. We've moved to a higher gear in this collection. Available from The Whisky Exchange. Score: 90/100
Benriach 31 yo 'Menteith' (53,1%, Livingstone / Elixir Distillers 2023, Macbeth – The Thanes, refill bourbon hogsheads, 650 btl.)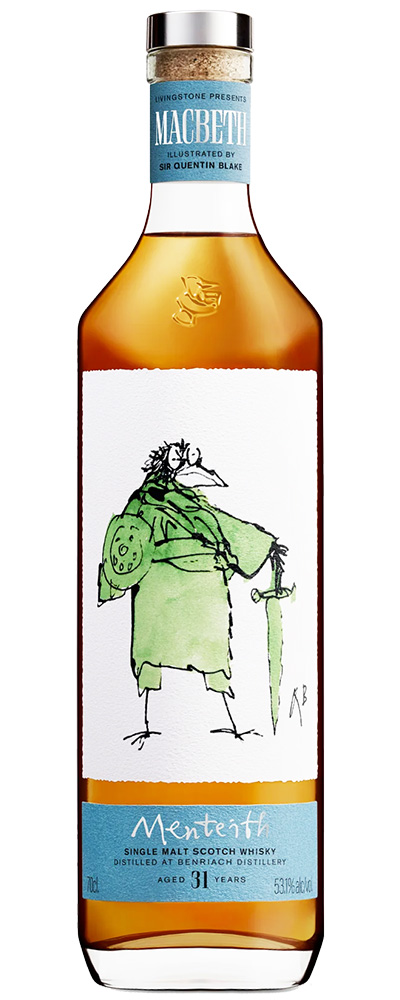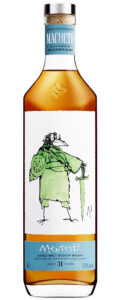 Nose: a nice fruit-driven profile, on Western fruits like pears, peaches and plums. Gooseberry tarts. Hints of floral honey as well. Then it gets slightly heavier, on almonds, broken branches and a hint of oak.
Mouth: quite a majestic delivery of assorted nuts and fruits. Oranges, apples and gooseberries, alongside almonds, white pepper and leafy notes. Some alcohol and big hints of barley as well – I expected a bit more fruitiness in the middle. Echoes of sandalwood in the end.
Finish: good length, on lemon cake, rapeseed oil, sweet barley notes and drying hints of walnuts.
While I expected a more opulent fruitiness, this is a rather humble but very good, mature Speysider. Altogether entertaining whisky. Available from The Whisky Exchange. Score: 90/100
Glen Garioch 31 yo 'Angus' (54,6%, Livingstone / Elixir Distillers 2023, Macbeth – The Thanes, refill hogsheads, 600 btl.)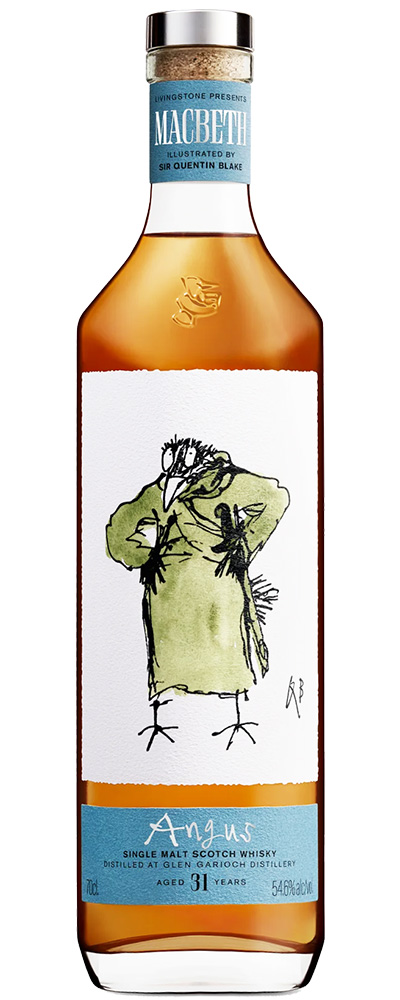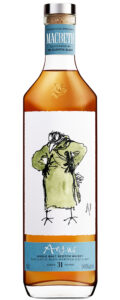 Nose: a slightly mineral start, on pine needles, concrete and floral hints, before steering towards richer vanilla cake with almonds. Then sweet white grapes, ripe goosberries, citrus peels, kiwis and light whiffs of vetiver and bourbonny oak (no soap or violets though, rest assured). Pretty excellent and complex.
Mouth: ginger biscuits and hints of lemon cake. Then orange peels, more gooseberries, plenty of barley sugars and hints of vanilla. Mild baking spice comes forward (nutmeg, ginger), as well as a chalky note again.
Finish: long, with spicy notes, vanilla, drops of lemon juice and hints of fruit tarts.
The combination of mineral notes, subtle fruits and good oaky hints make this is a great Glen Garioch. Lovely whisky, we're definitely switching to a higher gear at this point. Available from The Whisky Exchange. Score: 91/100
Ardbeg 19 yo 'First Witch' (51,7%, Livingstone / Elixir Distillers 2023, Macbeth – The Witches, Pedro Ximénez butts, 1800 btl.)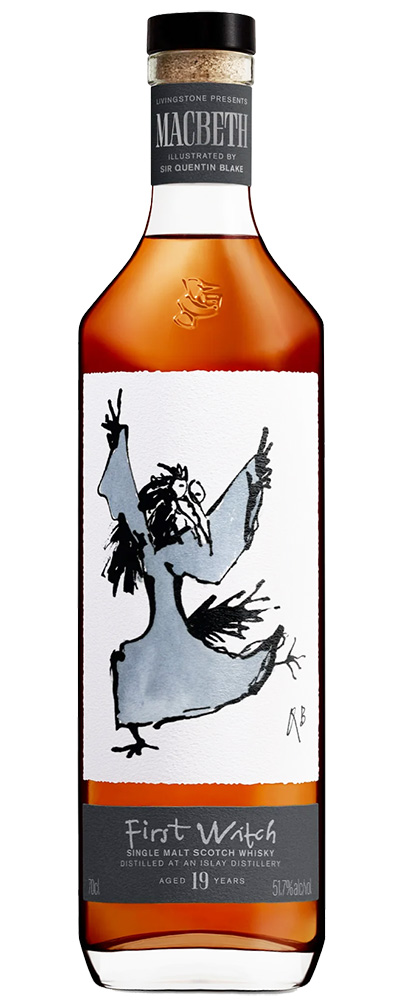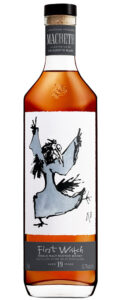 Nose: classic sweet bonfire ashes and mild tarry notes alongside raisins, figs and stewed rhubarb. Old ropes, hints of seaweed. Then some orangettes, tobacco and hints of candied fruits. Reminds me a little of Ardbeg Ar11, the sherry is well dosed.
Mouth: the oranges takes center stage at first, blending nicely with sweet bacon, drops of cough syrup and black peppercorns. The PX is louder now. Plums, blackberries, cinnamon cake and sweetened herbal tea. Mildly burnt notes give it a bittersweet edge. Then some roasted notes, mocha and dark chocolate sweetness. I feel the sweetness takes away some complexity, but overall the profile is quite exemplary.
Finish: rather long, with hints of tobacco, chocolate coated raisins and a hint of drying pepper.
This was finished for two years, adding the perfect dose of Pedro Ximénez. Sweetened but never sticky, with underlying dark and smoky layers. Available from The Whisky Exchange. Score: 91/100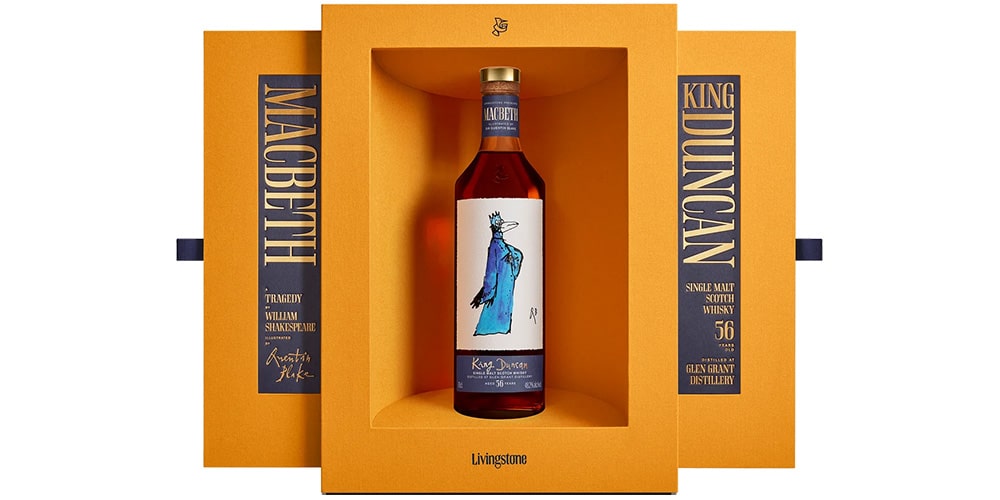 Glen Grant 56 yo 'King Duncan' (48,2%, Livingstone / Elixir Distillers 2023, Macbeth – The Leads, single sherry butt, 100 btl.)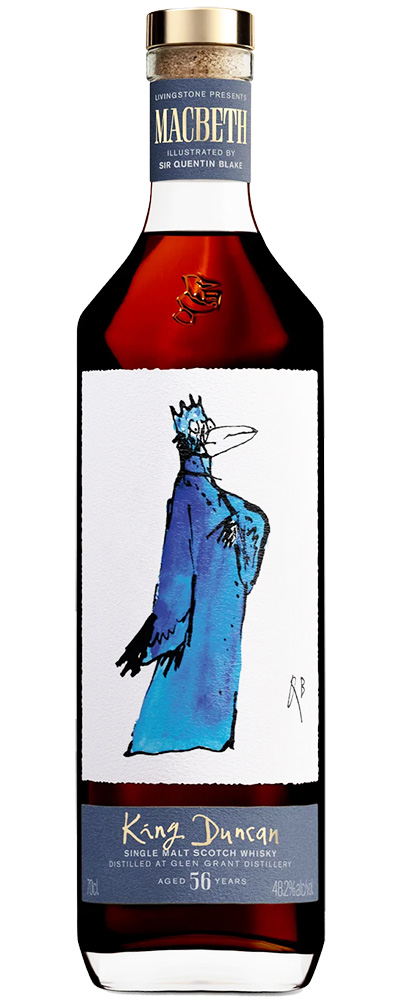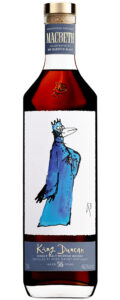 Nose: jammy forest fruits arrive first (cassis, blackberries, prunes) mixed with Corinth raisins, mint and eucalyptus. Then hints of pipe tobacco and sandalwood. Sweet liquorice roots and a freshly opened box of black tea, as well as old Chartreuse and robust cognac. Later also chocolate, candied orange peels, old leather and a subtle puff of cask smoke and incense. On par with some of the best Gordon & MacPhail bottlings.
Mouth: more sandalwood, with clove and Pu-Erh tea. Hints of chestnut honey, roasted nuts? Then very ripe strawberries and prunes again, with hints of vermouth. Fruitcake with burnt edges, as well as dried Mediterranean herbs. Eucalyptus drops. While the wood is easy to notice (56 years, mind you), there are no grippy tannins getting in the way.
Finish: good stamina, with more dark hardwood and herbal tea notes.
An old-fashioned Glen Grant, full of dark sherry notes and always keeping a rather sweet and rounded profile. Apparently Sukhinder bought this cask 15 years ago and now was the right time to bring it out on stage. An impressive first lead character in a series of five. Sold out from The Whisky Exchange – not sure whether more bottles are available elsewhere. Score: 92/100