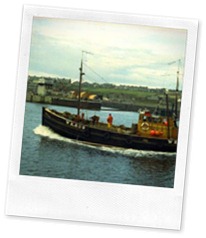 After the travel retail exclusive Old Pulteney WK499 that I picked up in Heathrow last year, a new "duty free" expression is due to be released.
Just like its sibling, Old Pulteney WK209 is named after the registration number of a herring boat called "Good Hope" and based in Wick harbour. In its time, it was a unique boat that was different from all the others.
Contrary to WK499, the new WK209 is matured entirely in first-fill European sherry oak. There's no age statement on the bottle, but it's said to contain 8 and 10 year old casks. It is bottled at 46%, non chill-filltered, natural colour and limited to 9600 bottles of 1 litre.
This evening, a handful of bloggers attended a Twitter tasting hosted by Malcolm Waring, distillery manager of Old Pulteney. We tried Old Pulteney 12yo, 17yo and the new WK209. Thanks again Malcolm and Lucas!
Old Pulteney WK209 'Good Hope'
(46%, OB 2010, 9600 btl.,
travel retail, 100cl)
Nose: starts unfresh in my opinion: meaty notes, distinct rubber, even plain sulphur… but other tasters liked that. Anyway it gradually turns towards more traditional sherry notes. Nutty aromas: praline, chestnuts… A hint of sour apples and a little mint. Coastal elements. Leather maybe. Apart from the sulphur problem, I'm missing the attractive freshness and the coherence of the WK499.

Mouth: dried fruits, dark chocolate, overall rather dry. Strong coffee. Plenty of spices (cinnamon, pepper, mustard). Now also the typical Pulteney salty edge. Liquorice. Brown sugar. Nice fade on roasted nuts.

Finish: medium length, half-sweet / half-dry, with hints of salt and cold coffee.
WK209 is meant to be a different dram, just like the boat it was named after. They've certainly succeeded, but I still prefer WK499 as a more typical and balanced Old Pulteney. WK209 will be available around March for about € 50.
Score: 77/100