Fable Whisky is a new bottler that is getting quite some attention for its series called The Ghost Piper of Clanyard Bay. Originally a set of five whiskies telling the story of an old Scottish folk tale, with beautiful woodcutting-inspired labels.
I must admit I'm not entirely getting the concept. There are chapters, but these seems to follow a non-linear release path? Also each chapter has multiple whiskies, most of which come from Diageo distilleries. A package deal? They're all quite young and almost exclusively from refill hogsheads. If someone would have told me I'm starting as an independent bottler and in the first year I'll release 9 Benrinnes casks and 8 Mannochmore casks, I would have sworn they were out of their mind.
While a first Fable Whisky session was not a big success, let's start with an open mind and check out some of the newer releases.
First and foremost a big thank you to Whiskay for offering me these samples. He's selling most of these bottles, go have a look.
Linkwood 12 yo 2009 (53,5%, Fable 'The Ghost Piper of Clanyard Bay – Chapter 2' 2021, refill hogshead #548160, 203 btl.)
Nose: banana candy, grape sugar and pineapple in syrup. Hints of Frosties and light vanilla sugar. Some tart green apples. Wee minty notes and lemon zest. Very fresh and bright.
Mouth: a similar balance between acidity and sweetness, making it really juicy. Orchard fruits, lemon candy and lemonade. Some greener notes too, like mint and green tea. A light bitter, gingery edge towards the end. Simple but to-the-point.
Finish: medium, green, with grassy notes and kiwi fruits, as well as a hint of toasted wood.
A decent starting point. You can't be against this refreshing, spring-like profile of candy sweetness and green fruits.
Blair Athol 13 yo 2008 (53,8%, Fable 'The Ghost Piper of Clanyard Bay – Chapter 6' 2021, hogshead #300529, 290 btl.)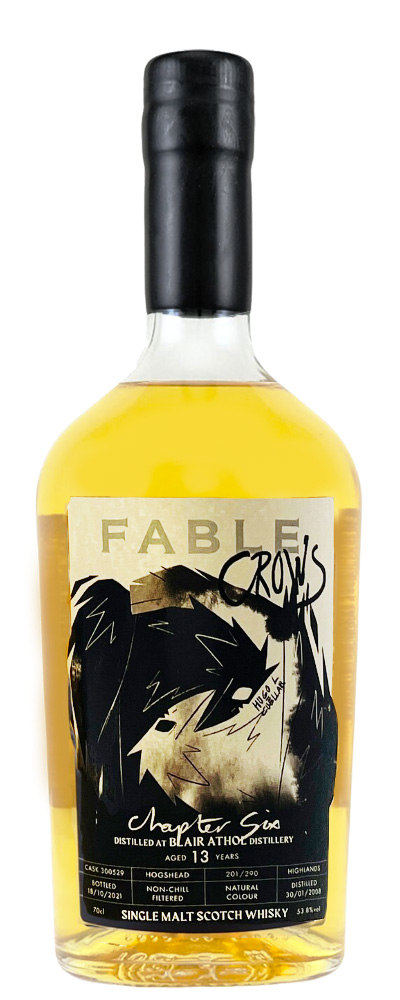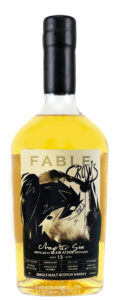 Nose: quite neutral, showing a sweet malty core with apple crumble, shortbread and cake, as well as some gooseberries. Sweet lemons. Just a hint of mashed potatoes.
Mouth: same feeling of fruit eau-de-vie. Plums, apricots, apples. Mid-palate it becomes more caramelly, with hints of butterscotch and latte. Wee hints of pencil shavings and a subtle hint of walnuts.
Finish: medium, clean, still malty and sweet, now with a growing zesty edge and a green oaky note.
Too malty and neutral for my taste. Indeed this is really a grain eau-de-vie with minimal wood interventions. Score: 80/100
Mannochmore 11 yo 2010 (55,7%, Fable 'The Ghost Piper of Clanyard Bay – Chapter 5' 2021, hogshead #4880, 308 btl.)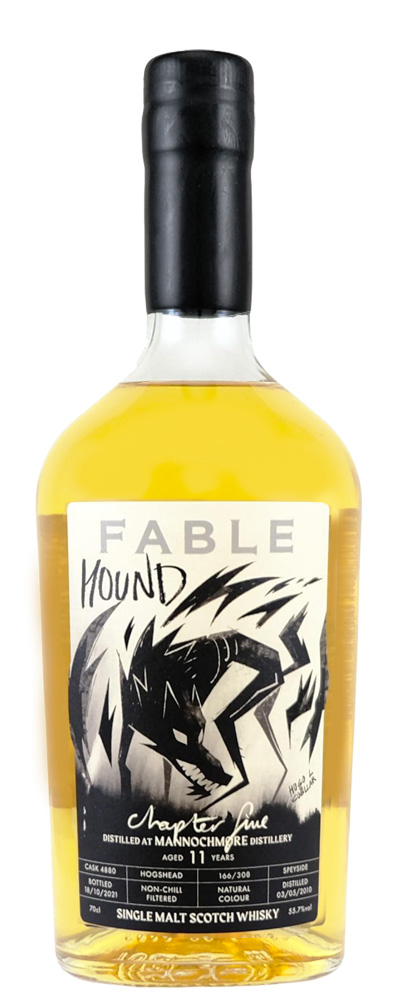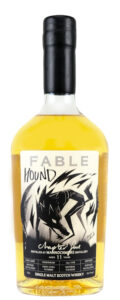 Nose: clean and fresh, on green melons, pomelos and some grassy notes. Some chalk and wet wool. Lemon curd. Again a firm hint of yeasty dough at its core.
Mouth: citrus and minerals, almost a Lowlands style, including the slight austerity that goes with it. Mint, lemongrass, more chalk and wet gravel. Oily notes. Hints of lavender honey, leafy notes and white pepper.
Finish: quite long, with hints of lemons, ginger and cinnamon bark.
Nicely focused and clean. If you're into a slightly greener, zesty Lowlands profile, this Mannochmore may rock your boat. Score: 82/100
Glen Elgin 13 yo 2008 (55,8%, Fable 'The Ghost Piper of Clanyard Bay – Chapter 7' 2021, hogshead #805339, 139 btl.)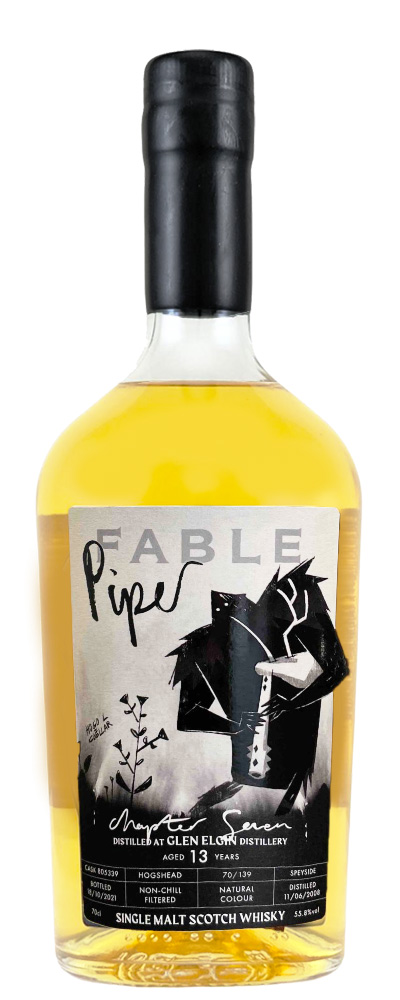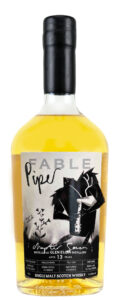 Nose: fresh, naked, tart fruits with a grassy touch. That's the theme alright. Grapefruits, gooseberries, apple juice and rhubarb. Hints of panettone. There's a nice oily layer, subtle chalk and a hint of sage as well. My favourite nose so far.
Mouth: a nice fatty structure. Also this green sweetness again, think green apples, unripe peach, green melons. Grapefruit. Peppery notes. Just a little vanilla and brioche, although you've probably guessed this is in no way a wood-influenced malt.
Finish: quite long, zesty, more green fruits.
I'm sure they only eat green fruits at the Fable offices. The thick structure and underlying sweetness makes this more to my liking than the previous three though. By all means good whisky. Score: 86/100
Dailuaine 12 yo 2009 (55,8%, Fable 'The Ghost Piper of Clanyard Bay – Chapter 3' 2021, hogshead #312084, 139 btl.)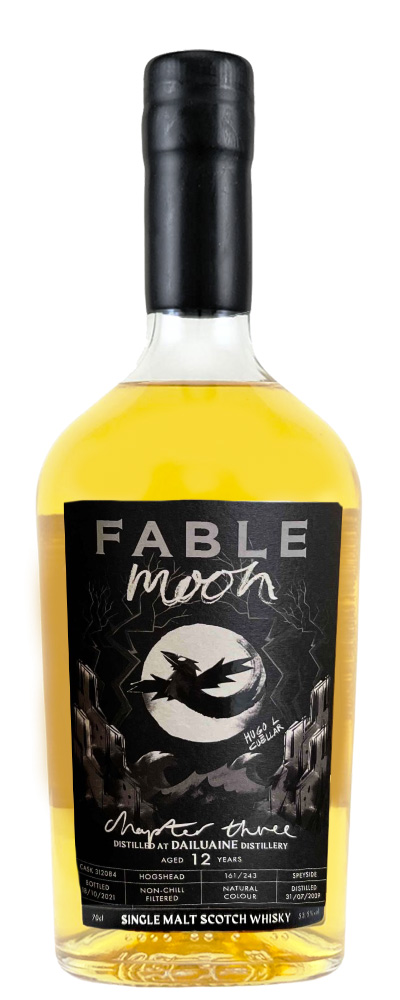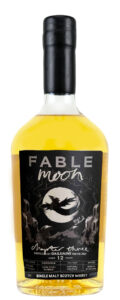 Nose: malty, yeasty. After the Glen Elgin this seems to struggle showing its fruits. Hints of wet cardboard and green herbs (parsley). Chalky hints, linseed oil, maybe a little nougat. Difficult so far.
Mouth: a lot of cereals, with chalk, earthy notes, hints of roasted nuts. Very little fruits again. Grist, sunflower oil, grassy notes. Dough as well. Still difficult.
Finish: good lenght, still on cereals, fresh barley, light vegetal notes.
I didn't seem to get connected to this Dailuaine. To me this is a blender's whisky, a pretty raw distillate that fails to excite me. Dare I say boring whisky? Score: 76/100
Teaninich 12 yo 2009 (56,6%, Fable 'The Ghost Piper of Clanyard Bay – Chapter 8' 2021, refill hogshead #705321, 301 btl.)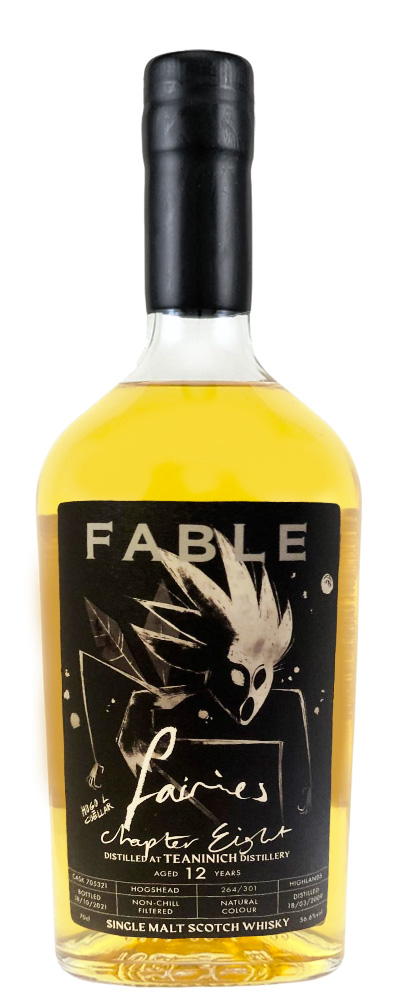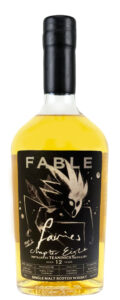 Nose: more barley-driven character. Gristy, with flour and a beer-like yeasty note, apples, grass and broken branches. Also pine needles, mint leaves and lemons. Hints of concrete and paraffin.
Mouth: still fairly raw. Barley eau-de-vie with plenty of apples and lemons, hints of wax and vegetal oils. Light echoes of Campbeltown. Then the cask comes forward, with hints of mocha and fudge. Herbal notes and white pepper.
Finish: quite long, grassy, bready, with a natural fatness and lots of barley notes.
A fine malt, really. Like the others, it stays really close to the raw materials but with enough complexity and fun. The Glen Elgin left a bigger impression but this is also one of the highlights so far. Score: 84/100
Glen Spey 13 yo 2008 (56,8%, Fable 'The Ghost Piper of Clanyard Bay – Chapter 11' 2021, hogshead #801891, 284 btl.)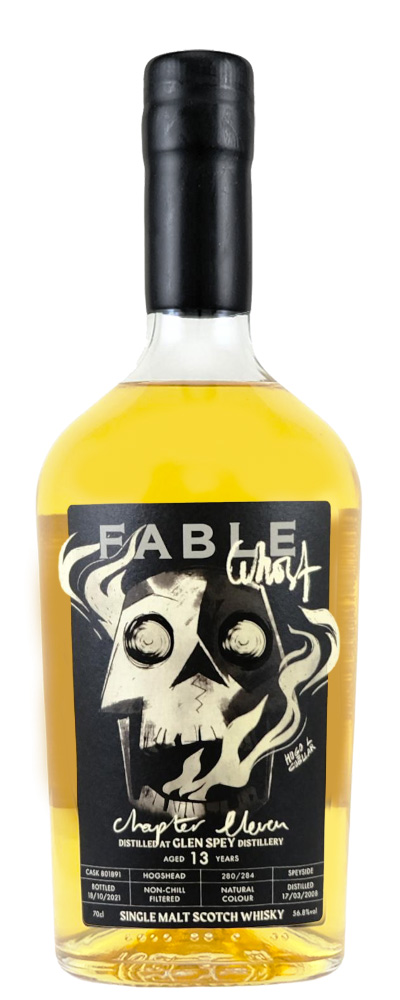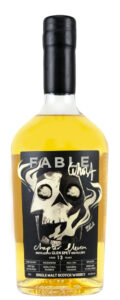 Nose: barley water, citrus and herbal touches. Some linseed oil and hints of caraway seeds. Aniseed. Really natural again, albeit a little uncomplicated and alcoholic perhaps.
Mouth: ripe gooseberries and apples, quickly taken over by caraway seeds and hints of mocha and butterscotch that remind me of the Blair Athol. Sweet liquorice and pepper. Hints of herbal tea and juniper as well. Now more complex and more powerful than the nose suggested.
Finish: long, with some medicinal notes, grass and lemons.
Granted, you don't get much Glen Spey, certainly from an inactive cask. While it's not a bad whisky either, the high alcohol isn't entirely integrated. Score: 80/100
Caol Ila 11 yo 2008 (56,8%, Fable 'The Ghost Piper of Clanyard Bay – Chapter 1' 2021, hogshead #309952, 294 btl.)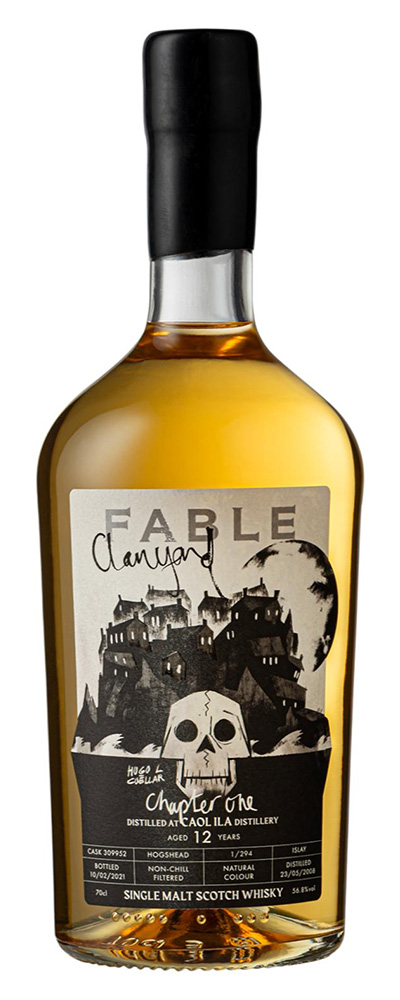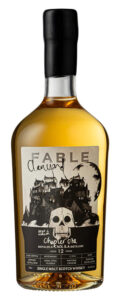 Nose: quite thick and fatty, with the usual mercurochrome, chalk and mezcal-like earthy smoke, but also rounder fruits, pastry cream and a little plain oak. Mislabeled Kilchoman? A growing saline note over time.
Mouth: again not as sharp as other Caol Ilas. Sweet lemons, seaweed and brine, but also white chocolate, vanilla pastry and a dollop of honey. Nice integration of the peaty notes, with faint chilli towards the end.
Finish: long, deeply smoky, with some ginger heat, vanilla and brine.
While the other whiskies in this line-up are all very naked, this feels thicker and less vertical than most other Caol Ilas… Simple pleasures again. Score: 88/100
Inchgower 12 yo 2009 (58%, Fable 'The Ghost Piper of Clanyard Bay – Chapter 10' 2021, hogshead #801616, 277 btl.)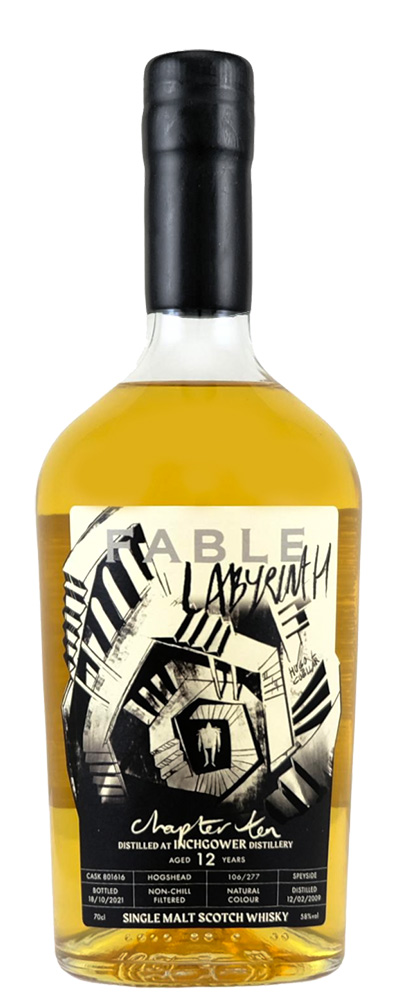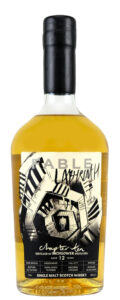 Nose: malt, vanilla, bright and sweet lemon juice and yellow fruits. Hints of Belgian tripel beers. Subtle linseed oil. Quite close to the raw materials, but freshness is coupled to good depth here. Rather perfect spirit.
Mouth: great balance again. Lemon sharpness, rounder vanilla, brioche and plenty of green and yellow fruits (pears, plums, peaches). Hints of pepper and green tea. Also lemon pie and a spoonful of floral honey.
Finish: long, half fruity and half herbal, with vanilla custard and green tea in the aftertaste.
For me this is on the same level as the Glen Elgin in terms of fruitiness and all-round pleasure. This is clean, there's no make-up and it's a well made spirit. Score: 85/100
Auchroisk 13 y0 2008 (59%, Fable 'The Ghost Piper of Clanyard Bay – Chapter 9' 2021, hogshead #806196, 264 btl.)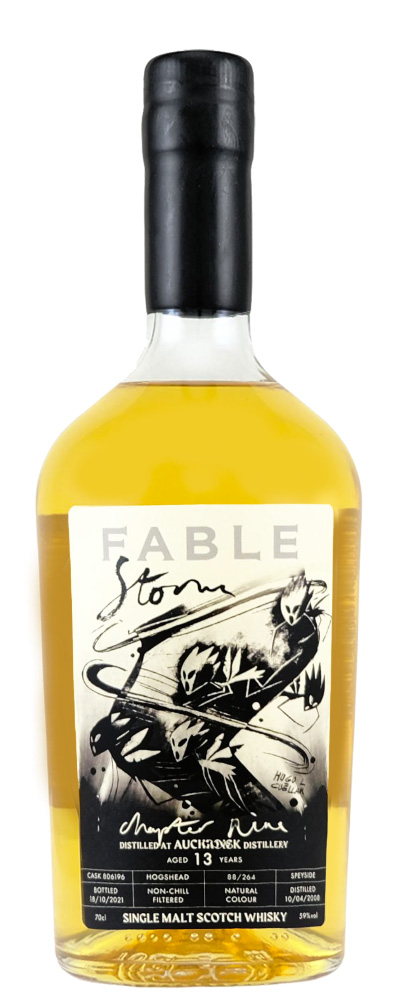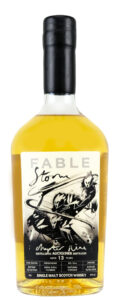 Nose: a lot sweeter and more candied, with more vanilla and yellow gummi bears. Pears, hints of bananas and marzipan, as well as custard. More warm woody notes too, apparently, with a light waxy touch.
Mouth: powerful, still this waxy and fruity body combined with aniseed, mint and pepper. Sweet apples and lemons, barley and sugary cereals. Growing oak and sweet grasses towards the end.
Finish: long, rather spicy with a gingery undertone. The most active cask so far in this series, and the high ABV amplifies this feeling.
A really nice nose on this Auchroisk, with the oak bringing pastry notes and highlighting sweet fruits. On the palate the wood influence becomes more prominent. Score: 83/100
Benrinnes 12 yo 2009 (60%, Fable 'The Ghost Piper of Clanyard Bay – Chapter 4' 2021, hogshead #307949, 286 btl.)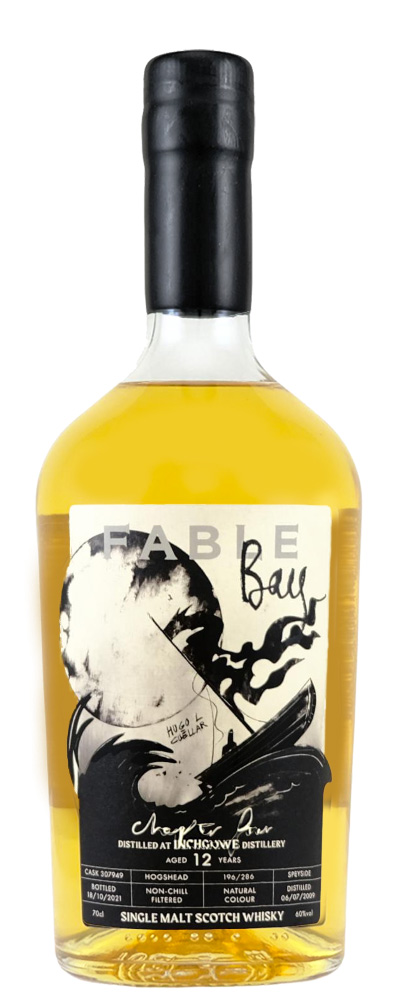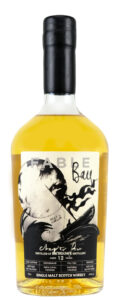 Nose: similar. Breakfast cereals with banana and apple, a dollop of marmalade and sweet lemon juice. Hints of sourdough and grape sugar. Some honeyed notes as well.
Mouth: still a big sweet side (now more towards peaches and oranges) but it also shows snappy spices, peppercorns and grassy / herbal notes. Some heat and eau-de-vie character, with a subtle hint of nougat.
Finish: long, now rather bittersweet, with lemon zest, lime and heat.
Also quite good, but once you reach 60% the heat gives you a rough edge. Now playing around with water helps to open up this nice dram. Score: 82/100
After this monster session, I'm still having problems with these extremely naked casks. While it's a nice idea to highlight the quality of a lesser known blender's malt sometimes, this amount of highly similar, distillate-driven whiskies with minimal variation becomes a challenging experience. A lot of work went into the storytelling, and that works, but I wished they put the same effort into the selection of interesting whiskies. I don't get the line-up, to be honest.
In short these are all fine whiskies with no flaws, but I'm having an overdose of green fruits and malty notes now. I need something with peat or sherry tomorrow…