I passed by TastToe the other day, the largest whisky shop we have in Belgium. They always have a couple of interesting exclusives so they offered me a sip of two of their latest releases.
The first one is a 2012 Caol Ila bottled by Signatory Vintage. It was iinitially matured in refill hogsheads and then transferred to a fresh sherry butt for a 27-month finishing period. Caol Ila and sherry casks often lead to fireworks. The other one is Ben Nevis 2010 from the same bottler, something I will never refuse.
Caol Ila 9 yo 2012 (58,7%, Signatory Vintage for Crombé, TastToe & Broekmans 2021, fresh sherry butt #10, 679 btl.)
Nose: a slightly funny mix of savoury notes like dried porcini and cured ham, with a balsamic sourness and soy sauce. Stout beer, hints of tar and iodine, then back to tobacco leaves and walnuts. Herbal notes, meaty notes, slightly rubbery peat and  espresso. A heavy cask influence, but Caol Ila can handle it.
Mouth: hugely extractive but fairly balanced nonetheless. Gingerbread, pine resin, dark chocolate, beef stock, all-spice and liquorice. Tarry peat, roasted chestnuts and dark PX. Also chilli, ginger and pepper. More coffee towards the end, with leather and bitter oranges.
Finish: very long, excellent chocolate notes, spice and oak char.
A dialed up sherry bomb with lots of savoury notes throughout. I found the balsamic nose a bit edgy at first, but overall it's a big and bold Caol Ila. Now available from TastToe and the other shops.
Ben Nevis 10 yo 2010 (59%, Signatory Vintage for Broekmans & TastToe 2021, bourbon barrel #406, 165 btl.)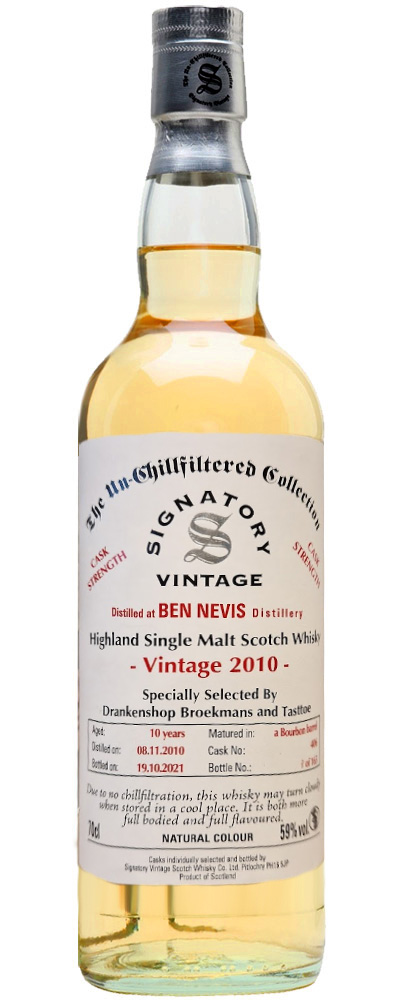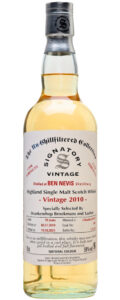 Nose: less dirty and mineral than some other vintages. This has a surprising amount of fruits like tangerines, sweet grapefruit and pineapple, with vanilla and a light varnishy touch. Hints of honey. Some walnuts in the background, with a wee milky edge.
Mouth: sweet, with a lovely fruity profile. Tangerines again, as well as mango and pink grapefruit. Nicely tropical, with some coastal sea breeze and gravel behind it. Developing more green notes over time, as well as some tangy ginger, white pepper and a light leafy dryness.
Finish: medium, fairly green with a bitter edge. Green tea, minty notes and lemon peels.
A deeply fruity Ben Nevis – the new vintage to watch when 1995 and 1996 run out? It certainly shows a similar fruitiness, with nice coastal notes behind it. Proper whisky, still available from TastToe. Score: 88/100