More artisan Mezcal – and quite a random bunch. We'll have the common Espadín but also other types of agave, and different ages. All three from the wider Oaxaca region though.
If you're new to mezcal, see last year's article with some basic information about mezcal.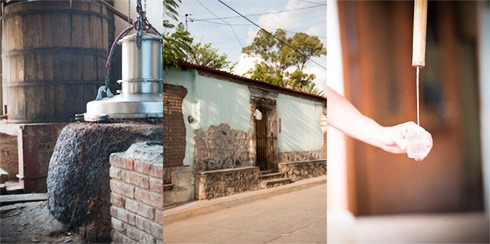 Ilegal Reposado mezcal (40%)
One of the half-artisan American brands. Produced for the Ilegal brand by the Tlacolula distillery in Oaxaca from 100% wild Espadín agave. The piñas are cooked in a clay oven fuelled by mesquite and eucalyptus. Distilled twice: first in stainless-steel alembic stills and then in copper alembic. Aged for 4 months in medium-charred American oak casks, 200 litres in volume. Around € 40-50 for a 50 cl bottle.
Nose: hints of young Islay whisky, with light smoke and agave sweetness. Also a light sourness of lemons and buttermilk. Just a little mint and pepper.

Mouth: sweet onset (caramel, fruity agave), then drier notes of wood smoke, pipe tobacco and soft herbs. A little vanilla and honey in the background. Hints of aniseed.

Finish: medium, with citrus peel, cocoa and brine.
A relatively sour nose but otherwise quite a gentle, rounded and slightly whisky-like mezcal.
Del Maguey Wild Papalome mezcal (45%)
Del Maguey, one of the pacemakers for mezcal, recently taken over by Pernod Ricard. A single estate mezcal jóven from San Pedro Teozacoalco, made with the rare wild Papalome agave. Distilled in a stainless steel pot with a clay condenser and bamboo tube. Quite expensive: around € 125.
Nose: that's more like it. A very earthy and fat mezcal. Lots of leathery notes. Hints of peppers and toasted wood. Tobacco. Eucalyptus overtones. Parsley. Just a slight hint of cotton candy in the back, but otherwise quite heavy and dark.

Mouth: savoury, dark and leathery again. There's smoke, dark chocolate, black olive tapenade. Grapefruit peel. Cinnamon and ginger. Salty notes too.

Finish: long, on salted fish, pepper and earthy notes.
I love this one: it's a heavy, leathery and earthy style but with lots of tiny notes to discover. Very complex.
Papadiablo Especial Mezcal (47%)
Made from Espadín agave and three other types: Madrecuishe, Bicuishe and Mexicano. Apparently a shared recipe with the Mezcalero No.11. It is distilled to proof, so no water was added. Around € 75.
Nose: very clean and rather pungent, with a kind of fruit gum brightness to it. Some floral hints as well. Wet cement. Hints of glue. Soft herbal notes in the background, but little development.

Mouth: rather spirity, with a slight sweetness and a salty hint but mosly vague vegetal notes and hints of wodka.

Finish: rather short and spirity, again with a vegetal edge.
Not as unique as other mezcals and in general it lacks richness and… well… flavour. Not my style and too expensive for what it is really.